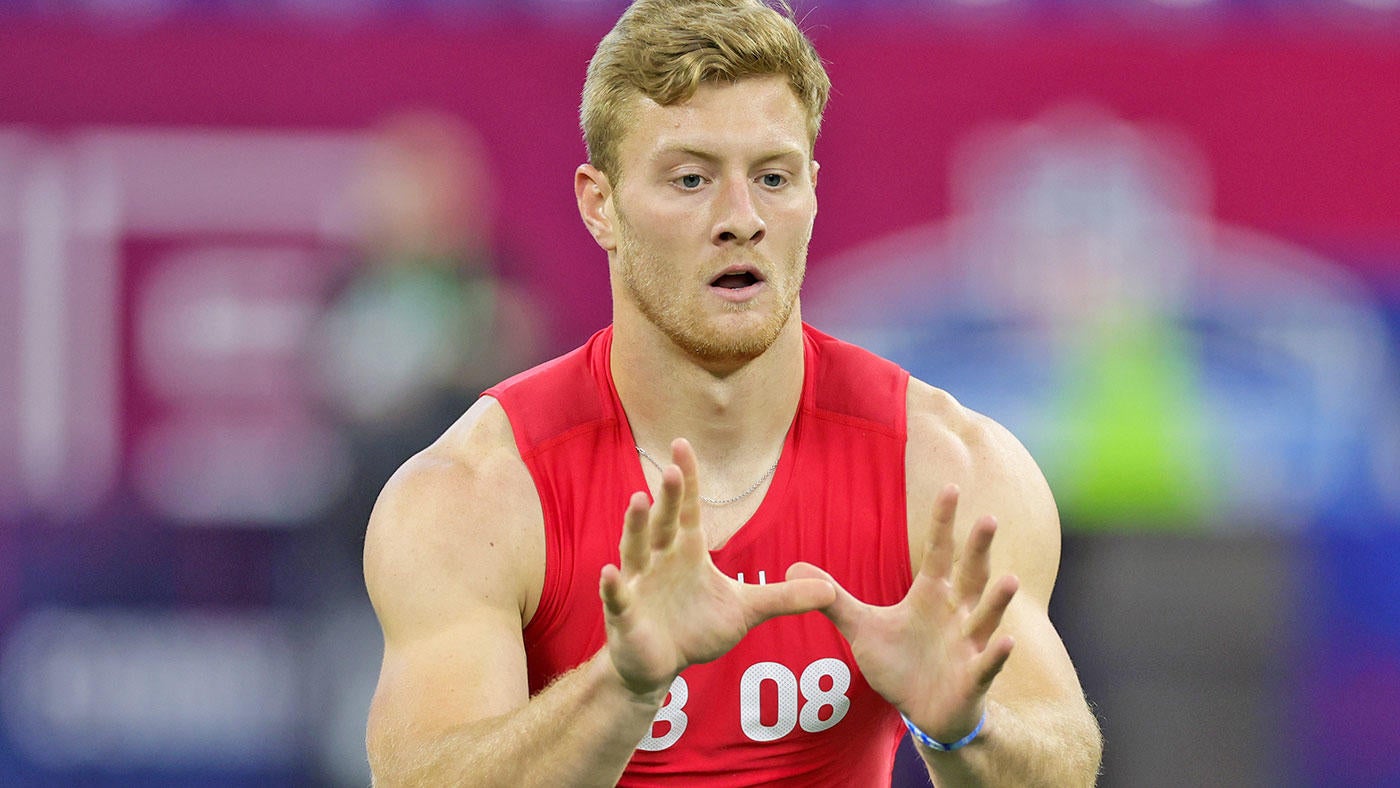 The son of a collegiate football player and a two-time All-American soccer player, Will Levis was a high school wunderkind, dominating on the football field (three-year starter, broke Xavier High School records for passing yards, passing touchdowns and completions as a senior), on the baseball diamond (lettered in baseball) and in the classroom (4.0 GPA with recruitment from Harvard and Princeton). He was a three-star prospect from 247 Sports, but perhaps he gained the most notoriety when he finished in first place at Nike's "The Opening" New Jersey regional competition in April 2017, garnering the highest QB score nationwide. Soon after he started receiving offers from major college programs, but the one his heart was set on was from Penn State.  And it was Penn State where Levis went … and barely played. In two seasons over three years, Levis threw only 102 passes in 14 games with one start, notching three passing touchdowns and six rushing scores. The Nittany Lions won in 2019 with Sean Clifford but not in 2020, yet they never pivoted from him to Levis. After graduating early, Levis transferred to Kentucky and started for the Wildcats in 2021 and 2022. Despite playing two seasons (24 games), Levis is fifth in UK history in all-time passing touchdowns (43) and is represented twice on the school's top 10 most single-season passing yards list. Age as of Week 1: 24 | Height: 6-foot-4 | Weight: 229 | Hand: 10 5/8 | 40-time: TBD Comparable body-type to: Jacoby Brissett We're breaking down everything you need to know about Young from a Fantasy manager perspective, including best fits, Dynasty outlook, measurables, scouting report, key stats and an NFL comparison.
Dynasty outlookLevis figures to be the most polarizing prospect in the entire draft. He's blessed with size and a strong arm, but he's not quite polished enough from head to toe and could seriously struggle if thrown into the NFL immediately. That's why Levis must be viewed as a long-term project who you'll anticipate loving for his arm, not necessarily his legs. That's why Fantasy managers looking for a winner in 2023 shouldn't bank on him, which is particularly problematic because he'll be 24 this coming season. Provided he takes to excellent coaching and specifically plays behind a quality offensive line, we could begin seeing some incredible returns by the middle of 2024, but his window to contribute won't be as wide as other prospects. Levis should only be considered a first-round pick in Superflex/two-QB rookie-only drafts, likely behind some order of Anthony Richardson, C.J. Stroud and Bryce Young. In one-QB rookie formats he'll fall into the middle of Round 2. Best realistic Fantasy fitsDetroit LionsDan Campbell's crew has time on their side: They can contend for a playoff spot in 2023 with Jared Goff, then move on from him to a prospect in 2024 (or 2025 if need be). The Lions have arguably the best support staff for a young quarterback, a prioritized offensive line and a young, fast receiving corps. Levis might thrive if he's the Lions' quarterback of the future, but not this year. Minnesota VikingsWe know Justin Jefferson will be there, and we think Kevin O'Connell will too. O'Connell, a former quarterback, is a great coach to help improve a quarterback's technique and get him up to speed at the pro level. There would be hope that Levis would become a terrific starter with big stats if he's the heir-apparent to Kirk Cousins. There's a lot of projection here, but a pass-first offense with Justin Jefferson as WR1 is not a bad spot for a young passer (or any passer) to be in.
Las Vegas RaidersSince the Raiders added Jimmy Garoppolo, Josh McDaniels wouldn't have to rush Levis onto the field. That would mean he'd have at least one year to learn the offense and improve his footwork while getting coached up by a pretty underrated support staff. Levis' mobility and cannon would be big-time assets for McDaniels to lean on, though the receiving corps would ultimately need addressing once Davante Adams starts to slow down. Next-best Fantasy fits: Seattle, Atlanta, Tampa Bay, Indianapolis, CarolinaLeast-appealing Fantasy fits: Washington, Houston, New England, Tennessee Scouting reportStrengthsStrapping young man with ideal height and well-built physique. Effortless throwing motion with quick release helped him get the ball out fast.Effective shoulder pump-fake is in his bag.Excellent pass velocity to rocket footballs into tight windows. Has mastered out routes, particularly to the far sideline.Elite arm strength. Documented throws that traveled as far as 54 Air Yards in 2021 and 2022. 
Tough. Willing to dive for the touchdown at the goal line. Was hit a number of times in 2022 thanks to a downgraded offensive line with lapses in protection assignments and got up every time. Played through three separate injuries in 2022, though it may have impacted his mechanics (much more on that below).Typically does not put the ball in harm's way when pressure overcomes him. Smart enough to throw the ball away or take a sack instead of making a dangerous toss.Solid speed when he did run with an understanding of run angles and following his blocks.Not a bad word about Levis from Kentucky teammates and coaches, all of whom sing his praises as a leader on and off the field.Had four different offensive coordinators in his college career including two NFL-style playcallers at Kentucky. He should be better prepped for the NFL game.Probably at his best in an aggressive version of the West Coast offense that highlights his mobility on bootlegs. Could also work in an up-tempo spread system. May evolve into a functional player in a more tedious offense with a deep playbook.ConcernsArm angle is acute in his throwing motion, impacting his touch on shorter throws.Seemed to only throw consistently well in calm pockets.Footwork was inconsistent, which led to significant inaccuracy issues, especially in 2022. Drop-back wasn't consistently straight, the spacing between his feet felt too wide which impacted his base, he would sometimes drift too far back, and he rarely stepped-up in the pocket when pressure came. When passing, his back foot wasn't always planted and front foot wasn't always in the direction he threw the ball in. Sometimes one foot was good and the other wasn't. The issue seemed to arise most often when there pass rush pressure to "speed him up".
To his credit, Levis told ESPN at his Pro Day that his "platform to throw sometimes can put me in an disadvantageous situation" and that he's "address(ing) those things" with quarterback coach Jordan Palmer. However, he told CBS Sports' Josh Pate in 2022 that he worked on his footwork and lower-body fundamentals before the season, and there were still issues. Felt like Levis made a glut of predetermined throws in 2022 and seemed to make more/better reads post-snap in 2021, which could have been a byproduct of the offense he played in, his teammates and his health. He tended to have a poor recognition of pre-snap coverage and also made predetermined throws without considering the coverage in 2022. 
Must learn to trust his eyes! He was late on a slew of throws that would have been money had he thrown a beat sooner. Also moments when he saw an open target but didn't throw, holding the ball for too long and inviting pressure. If he's tentative and can't connect his eyes, brain and arm, then he'll need an offense that spells every play out for him. That's what he seemed to have a lot of in 2022 and it wasn't great.The idea of passing to a teammate went out the window when he did feel pressure. He frequently tried to either make a play with his legs (especially against edge pressures) or throw the ball away/take a sack (especially against interior pressures). He only sometimes re-adjusted his platform with his eyes downfield to make a throw. Levis rarely beat the blitz.At times had zero awareness of oncoming pass rush pressure, so much so that he was rocked by unchecked defensive linemen. Levis must master his understanding of protection schemes and coordinate flawlessly with his offensive line. 
Levis' velocity is strong to a fault. He must learn to reliably tone it down and consistently throw with gentler touch when needed, mainly on shorter throws. Levis suffered turf toe and a finger injury in early October 2022, missing one game, then sprained his left (non-throwing) shoulder in mid-October 2022. He told the "Pin it Deep" podcast in December that those injuries impacted his planting and explosive movements in practices before ultimately receiving pain-tolerance medication on game days.Levis was a top recruit to Penn State but didn't throw much over three seasons even though the starter in front of him wasn't consistently good. Why didn't he get the opportunity at his first school of choice?Levis' high-school teams were never better than 6-4 and never made the Connecticut state playoffs, and only his first season at Kentucky was a success. Why didn't he win more often?Stats breakdownGCmp%PaYdsYds/AttPaTDPaINTRuAttRuYdsRuAvgRuTD20221165.4%24068.5191072-107-1.522022 v Top-25664.2%11447.77635-30-0.91Career at UK2465.7%52328.243231792691.511Advanced stats to know65.4% completion rate was 38th best out of 148 QBs with at least 275 pass attempts in 2022, 0.9% better than Bryce Young and 0.9% worse than C.J. Stroud. With 25.7 pass attempts per game, Levis was 138th out of 148 qualifying QBs. NCAA average was 32.0 per game.Sack rate of 10.7% was 146th out of 148 qualifying QBs.Per Pro Football Focus, Levis completed 49 of 54 throws on screen plays for 342 yards. That represents 19% of his attempts, 26% of his completions and 14% of his yards. Fellow top prospects Young, Stroud and Anthony Richardson all had lower rates than Levis.On passes of 15-plus Air Yards, Levis ranked 54th in completion rate (44.6%) and 36th-worst in off-target rate (32.1%) out of 148 qualifying QBs. He was the worst among the top four prospects.Statistically finished 14th-best in completion rate when pressured, better than Young, Stroud and Richardson, with a 9.4 yard per attempt average (fourth-best in the nation).It's also worth noting Levis was pressured on 82 of his 283 pass attempts, roughly 30% of all pass attempts he had, and was actually sacked on 29.3% of his pressured attempts.Excluding kneel-downs and sacks, averaged 3.4 yards per rush.NFL comparisonLevis deserves credit for a solid 2021 season and a little bit of mercy for dealing with injuries and a rough offense in 2022. If he's as bright as his high school and college plaudits suggest, he should be able to adapt quickly to an NFL playbook, especially since he has experience running an NFL offense. Quality coaching could further help Levis ascend to being an outstanding quarterback provided he gains more confidence in what he sees and more refined technique in how he sets his feet and manipulates defenses. He has the same potential as Carson Wentz had when he was a prospect, along with the same kind of large size and strong arm. Wentz's career trajectory went south as soon as injuries and mental hurdles slowed him down. A wise organization won't put Levis in the same situation, giving him more upside to shine for more than a couple of seasons.