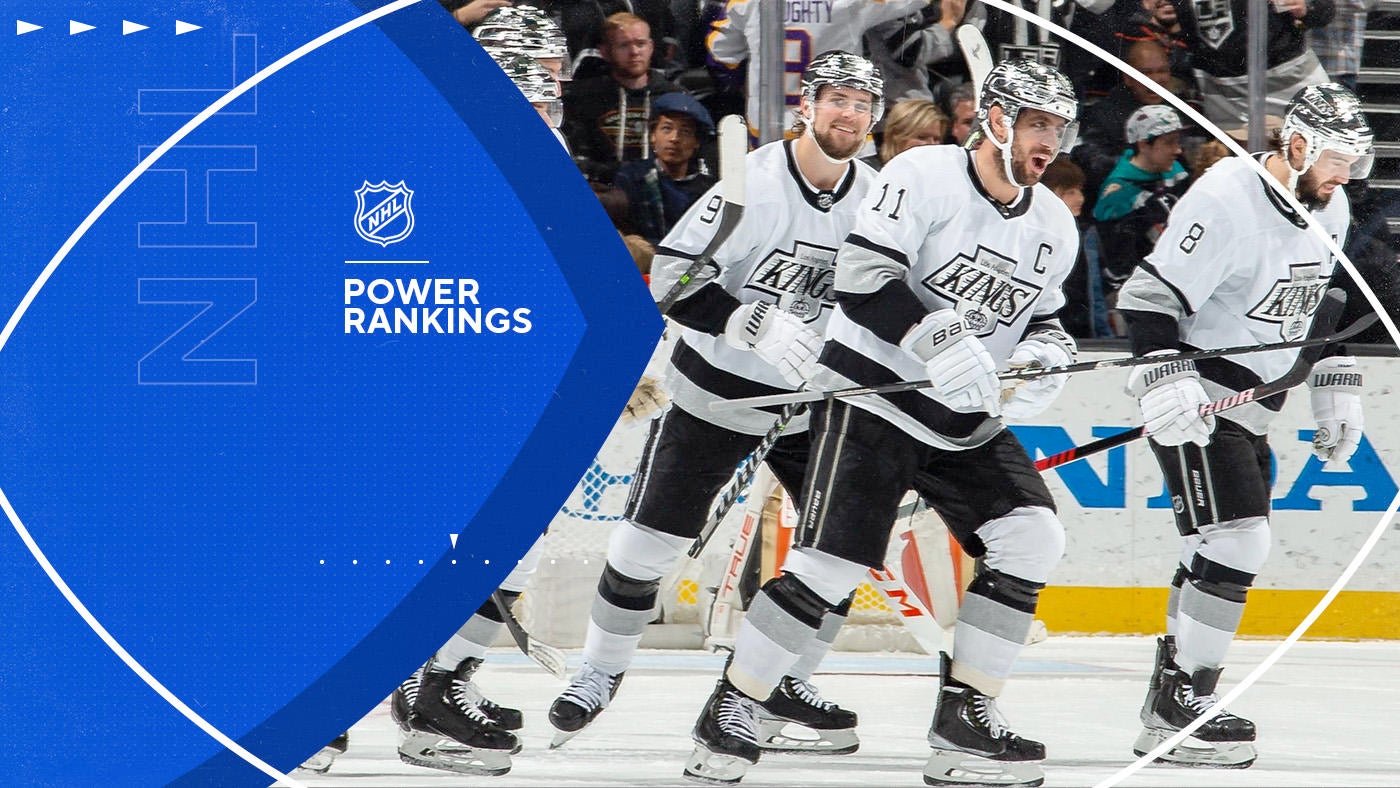 1
Bruins
The Bruins made NHL history on Saturday by reaching 50 wins faster than any other team in league history. Some will say this preposterous regular season will only put more pressure on Boston in the first round of the playoffs, but there will be plenty of time to think about that when the postseason arrives. For now, fans just need to enjoy this historic ride.
—
50-11-5
2
Devils
Dougie Hamilton received some criticism for a down year in 2021-22, but he has bounced back with a vengeance this season. Hamilton has tied his career high in goals (18) and set new career highs in assists (45) and points (63). He's done all of that while posting a plus-24 goal differential at five-on-five, per Natural Stat Trick.
1
44-17-6
3
Hurricanes
Carolina can't seem to catch a break in its pursuit of a Stanley Cup. After losing Max Pacioretty to an Achilles injury earlier in the season, star forward Andrei Svechnikov has suffered a season-ending knee injury. The Hurricanes will still be a formidable playoff opponent, but it'll be very difficult to replace Svechnikov's offensive production.
1
44-14-8
4
Kings
It is an incredibly small sample size, but the Kings' goaltending has been notably improved in March. Through five games, Joonas Korpisalo and Pheonix Copley have combined for 4.79 goals saved above average. That is an encouraging sign, and if this Kings team gets reliable goaltending in the playoffs, it could win the Western Conference.
3
39-20-9
5
Wild
With Kirill Kaprizov out for three to four weeks with a lower-body injury, the Wild offense will get a major test. Even with Kaprizov in the lineup, the Minnesota offense was struggling to score goals. The rest of the lineup must pick up the slack now that Kaprizov and his 39 goals are on the shelf for the immediate future.
1
38-21-8
6
Stars
On Thursday night, nine different Stars scored as they hung a 10-spot on the Sabres. In recent years, Dallas has been criticized for a lack of offensive depth, but those concerns will probably vanish if the team keeps posting double-digit scores.
4
37-18-13
7
Maple Leafs
With a goal in each of his last two games, William Nylander now has 35 on the season, which is a new career high. Nylander is playing at an elite level, and he is one of the most fun players to watch in the NHL because it's never boring when he's on the ice. As much as Nylander creates on offense, he can give a little bit back on the defensive end, which is an exciting combo.
1
40-18-8
8
Golden Knights
Jonathan Quick recorded a shutout of the Hurricanes in his third start with the Golden Knights, stopping all 33 shots he faced. Quick is off to a 4-0 start in Vegas, and he has helped them win a couple of games in which the team got outplayed. It'll be interesting if he keeps this up long enough to get playoff revenge against the Kings.
3
42-20-6
9
Avalanche
The Avalanche's training room is starting to reach capacity. Forward Artturi Lehkonen broke his thumb in Monday night's win over the Canadiens, and he will miss four to six weeks. Colorado has had unbelievably poor injury luck this season, and yet the team is still capable of earning home-ice advantage in the first round of the playoffs.
—
37-22-6
10
Oilers
The early returns on Mattias Ekholm have been exceptional. Ekholm has only played seven games in an Oilers uniform, but the team has a plus-9 goal differential and a 59.51% expected goals share when he is on the ice at five-on-five. Edmonton is much more imposing with Ekholm as the No. 1 defenseman.
1
37-23-8
11
Rangers
The Rangers' five-on-five game has been lagging of late, and that has led to some subpar results on the scoreboard. Over the last month, the Rangers rank 20th in five-on-five expected goals share (47.26%). That type of number worked last season when Igor Shesterkin was having an out-of-body experience, but that hasn't always been the case this year.
3
38-19-10
12
Panthers
One of the main reasons why the Panthers have been able to climb the Eastern Conference standings is that Aleksander Barkov has started to heat up again. Barkov has six points in his last four games, and he needs to keep that up if Florida is going to get above the line by the time the regular season ends.
3
33-27-7
13
Kraken
Seattle has lost three straight games, and it is now just one point ahead of the Oilers in the Pacific Division standings. To make matters worse, the Kraken's lack of goaltending is rearing its head once again. In the last month, Martin Jones and Philipp Grubauer have combined to allow 6.54 goals above average, per Natural Stat Trick.
1
37-23-7
14
Islanders
After getting off to a strong start with the Islanders, Bo Horvat has cooled off a little bit. Horvat has just one assist in his last six games, and that is bad news for an Isles team that is still fighting for its playoff life. Ilya Sorokin is more than good enough to make up for some offensive shortcomings, but Horvat has to get going again quickly.
2
34-27-8
15
Lightning
Andrei Vasilevskiy has not been himself lately. Since Feb. 12, Vasilevskiy has made 11 starts, and his -1.19 goals saved above average rank 47th in that span. That explains some of Tampa's recent struggles, and it's hard to see them getting far in the Eastern Conference playoffs without Vasilevskiy being on top of his game.
1
40-22-6
16
Jets
Few teams had a better weekend than the Jets. On Saturday, they caused some hypertension in Winnipeg but pulled out an overtime win over the Panthers. On Sunday, the Jets went into Tampa Bay and defeated the Lightning in regulation. Winnipeg needed to stop the bleeding, and it did exactly that.
2
38-27-3
17
Penguins
Evgeni Malkin has been absolutely dishing lately with nine assists in his last six games. Malkin now has 70 points in 66 games, and he is much closer to peak performance than he was over the previous two seasons. Pittsburgh will always have a shot when Malkin and Sidney Crosby are firing on all cylinders.
2
34-23-10
18
Sabres
Alex Tuch returned to the Sabres' lineup just in time. On Monday, Tuch suited up for the first time since Feb. 24 and scored a pair of goals in a comeback win over the Maple Leafs. Buffalo will need more of that from him to keep its playoff hopes alive.
1
33-28-5
19
Senators
It seems like the Senators' magic may have run out at this point. In the last 10 days, Ottawa has lost to the Blackhawks, Canucks, and Flames by a combined 12 goals. Those losses have all but knocked the Senators out of the Eastern Conference playoff picture.
6
33-30-4
20
Predators
Tommy Novak, a third-round pick in 2015, has emerged as a consistent source of offense for the Predators. After spending parts of five seasons in the AHL, Novak has tallied 13 goals and 15 assists in 34 games with Nashville this season. He's a reason the team has remained a float after being an aggressive seller at the trade deadline.
1
34-24-7
21
Flames
If you're going to reverse your playoff fortunes, you can't be dropping games to the Ducks and Coyotes. That's what the Flames have done in the last week, and it has put a major dent in their playoff chances. Calgary has one month to show something that it hasn't shown at all this season. If that doesn't happen, Darryl Sutter's seat will be awfully warm.
1
30-24-14
22
Canucks
Vancouver has won five straight games, and J.T. Miller seems to have found a bit of a groove under head coach Rick Tocchet. Miller has four goals in his last four games, and he has the opportunity to finish strong in what has been an otherwise difficult season for him.
—
29-32-5
23
Capitals
Evgeny Kuznetsov has really struggled recently, and that's bad news for a team that is already a little shorthanded. Since Feb. 26, Kuznetsov has just one point, and he hasn't found the scoresheet in his last six games. Washington is fighting an uphill battle, and it needs Kuznetsov to start piling up points sooner rather than later.
1
32-29-7
24
Red Wings
One of Steve Yzerman's priorities in the offseason has to be getting Dylan Larkin some help. Larkin is the only player with more than 20 goals on the season (25), and the next closest player is Dominik Kubalik at 18. If the Wings want to contend, they need more firepower up front.
2
30-28-9
25
Blues
If any Blues fans are looking for any positives from this season, it has to be Jordan Kyrou's production. Kyrou has a big contract extension kicking in next season, and he has set a new career high in goals with 30. The team around him has been a bit of a mess this season, but Kyrou has shown he can fill the next with a high degree of regularity.
2
29-32-5
26
Coyotes
Juuso Valimaki has quietly emerged as a reliable defender for the Coyotes this season. He has two goals and 24 assists in 63 games this season, and his on-ice impacts have been very encouraging. Valimaki has posted a minus-1 goal differential and a 49.7% expected goals share at five-on-five, per Natural Stat Trick. Those are some of the best numbers on the entire team.
2
25-32-11
27
Ducks
Last summer, the Ducks signed Ryan Strome to a five-year contract worth a total of $25 million, and that hasn't exactly worked out for either side so far. After tallying 21 goals and 54 points with the Rangers last year, Strome has just 11 goals and 31 points in 2022-23.
2
22-35-10
28
Blackhawks
Chicago was riding a four-game losing streak. It was in a nosedive and improving its draft lottery chances by the day. Then the Blackhawks went and beat the Bruins on Tuesday? Don't ask me how, but they found a way to outduel the best team in the NHL.
3
23-38-6
29
Canadiens
Not to be outdone by the Blackhawks, the Canadiens were still looking for their first win in March. That is, until Tristan Jarry had one of the worst periods of his career. Jarry single-handedly ended Montreal's seven-game skid.
2
27-35-6
30
Blue Jackets
Johnny Gaudreau hasn't scored a goal since Feb. 14, and he has just six assists in his last nine games. Columbus is aiming for the No. 1 overall pick, but the franchise has to be at least a little concerned to see Gaudreau struggling so badly. Maybe sticking him on a line with Connor Bedard next season will help.
1
21-38-7
31
Flyers
The Flyers are getting in on the tanking action too. They've now lost four straight games in regulation, and they've won just two of their last 10 games. At least Philadelphia ripped the band-aid off and parted ways with GM Chuck Fletcher so that it can move forward with a new vision.
1
24-32-11
32
Sharks
Few teams have had goaltending more conducive to tanking than the Sharks, to put it nicely. James Reimer's -11.44 goals saved above average is tied for 85th, per Natural Stat Trick, and he is having a markedly better season than his fellow netminder Kaapo Kahkonen. With -23.51 goals saved above average, Kahkonen ranks 95th. Only Vancouver's Spencer Martin has been worse.
—
19-36-13