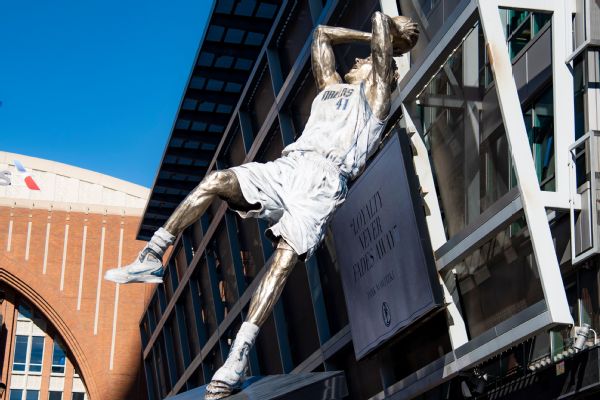 DALLAS — On the night that Dirk Nowitzki's jersey was retired last season, Dallas Mavericks governor Mark Cuban promised to have the "biggest, most badass statue ever" erected in front of the American Airlines Center to honor the legend.
"It's a promise that gives me joy to deliver on, because you earned it," Cuban told Nowitzki on Christmas morning, minutes before the nearly 24-foot-high statue was unveiled steps from the street renamed a few years ago as Nowitzki Way.
The white bronze statue is a sculpture of Nowitzki's iconic one-legged fadeaway jumper, the same shot that is featured as silhouettes near the left block on both ends of the American Airlines Center court. The shot became known as "The Dirk" while Nowitzki climbed to the sixth spot on the NBA's all-time scoring list and has become part of the repertoire of several current players, including the two stars facing each other on that floor Sunday afternoon, the Los Angeles Lakers' LeBron James and the Mavericks' Luka Doncic.
Doncic and several other Mavericks attended the ceremony, as did coach Jason Kidd, a former teammate of Nowitzki's.
"One more stop: the Hall of Fame," Kidd said, referring to Nowitzki's certain inclusion in the next Hall of Fame class as a first-ballot selection.
Artist Omri Amrany created the statue, one of several he's made to honor NBA legends, including Michael Jordan, Magic Johnson, Wilt Chamberlain, Jerry West, Kareem Abdul-Jabbar and Shaquille O'Neal. The statue is rich with details, using the shoes and uniform that Nowitzki wore while leading the Mavericks to the 2010-11 NBA championship, the franchise's lone title.
At the base of the statue, it reads: "Loyalty never fades away," a tribute to Nowitzki spending his entire career in Dallas, setting an NBA record by playing 21 seasons for one franchise.
"It's 21 letters for my 21 years here," Nowitzki said.