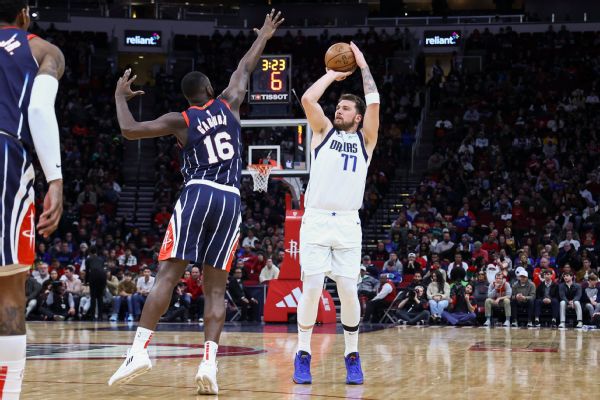 HOUSTON — Luka Doncic scored a season-high 50 points, including 17 in the fourth quarter, and the Dallas Mavericks held on to beat the Houston Rockets 112-106 on Friday night.
Doncic, who also had 10 assists and eight rebounds, was 17 of 30 from the field, including 6 of 12 on 3-pointers. It was Doncic's second career 50-point game. He scored a career-high 51 against the Clippers on Feb. 10, 2022.
Spencer Dinwiddie and Davis Bertans each scored 11 points for Dallas, which shot 45% and made 16 of 44 3s.
Jabari Smith Jr. finished with 24 points and 10 rebounds, Jalen Green added 23 points and eight rebounds, and Alperen Sengun had 19 points and eight rebounds for Houston, which lost its fifth straight.
Kevin Porter Jr. scored 14 points, and Kenyon Martin Jr. had 10 for the Rockets, who shot 46%.
Tied at 94 with 7 1/2 minutes remaining, the Mavs used an 11-3 run to open up an eight-point lead on a 3-pointer by Doncic, who blew a kiss to the crowd. The Rockets responded with seven straight points to cut the lead to 105-104 on Sengun's layup with 3:13 left.
After Bertans hit a 3 to up the lead to four, Smith cut the lead to two with a jumper with a 1 ½ minutes remaining. The two teams traded turnovers and missed shots before Doncic nailed a 3-pointer with 18 seconds left to give the Mavs a five-point lead.