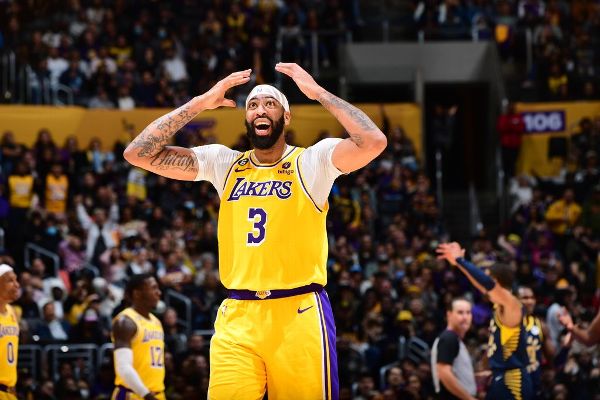 LOS ANGELES — Lakers star big man Anthony Davis has a stress injury in his right foot and will continue to be sidelined indefinitely, the team announced Friday.
Davis injured his foot last week during a game against the Denver Nuggets after his lower leg collided with Nikola Jokic while the two were in midair near the basket in the first quarter.
L.A. had been identifying Davis' injury as right foot soreness until Friday when the team termed it a stress injury after what the Lakers called "extensive consultation" with team doctors and outside specialists. ESPN previously reported that Davis would miss multiple weeks of playing time, at a minimum, because of the injury.
Sources tell ESPN's Adrian Wojnarowski that the pain in Davis' foot has subsided in the past several days and he's expected to rest it for another 7-to-10 days. He'll then have it re-evaluated for a possible return to play.
For now, there's hope that a procedure can be avoided, the source added.
Davis, who was present for Lakers shootaround Friday wearing a winter hat and slippers while he was on the court, will miss his fourth straight game when L.A. hosts the Charlotte Hornets. The Lakers have gone 1-2 without him since the Denver game.
The 11-year veteran had been enjoying a career renaissance this season prior to the injury, averaging 27.4 points on a career-best 59.4% from the field, while also grabbing a career-high 12.1 rebounds per game with 2.6 assists, 2.1 blocks and 1.3 steals.