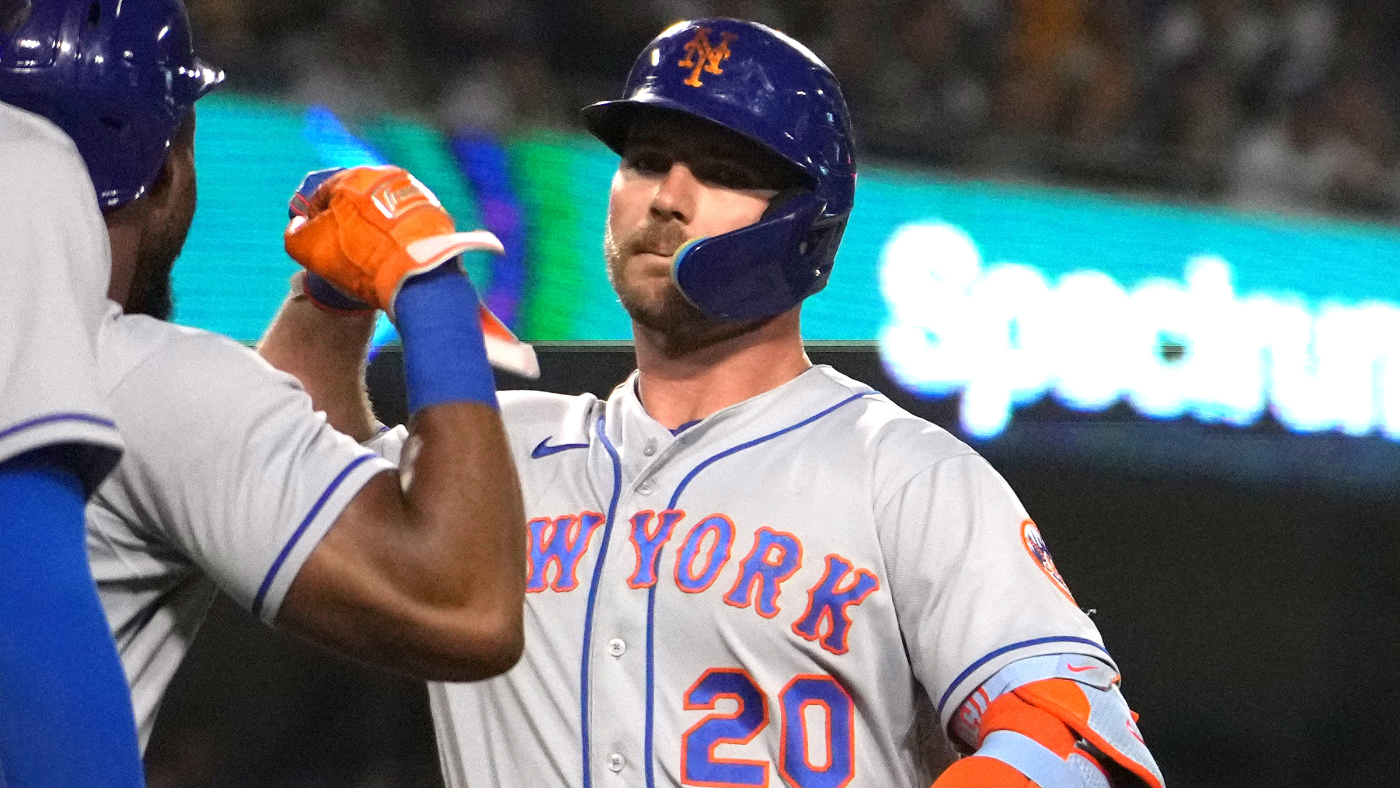 Monday night two expected National League powerhouses will open a three-game series when the New York Mets visit the Los Angeles Dodgers at Dodger Stadium. The Dodgers and Mets were two of the four teams to win 100 games last season, though they both suffered early postseason exits. They are again on the short list of the projected best teams in baseball in 2023. The Mets swept a three-game series against the lowly Oakland Athletics this past weekend. The Dodgers lost two of three at home to the Chicago Cubs, and they're 3-6 in their last nine games. The Mets enter this week's series at 10-6 and two games behind the Atlanta Braves in the NL East. The Dodgers are 8-8 and a game behind the Arizona Diamondbacks in the early going. Here are the details for this week's Dodgers vs. Mets series at Dodger Stadium. Monday's game can be streamed on fuboTV (try for free). April 17 10:10 p.m. ET RHP Dustin May (1-1, 1.47 ERA) vs. LHP David Peterson (0-2, 4.91 ERA) SportsNet LA, SNY, MLBN April 18 10:10 p.m. ET LHP Clayton Kershaw (2-1, 3.50 ERA) vs. RHP Tylor Megill (3-0, 2.25 ERA) SportsNet LA, SNY, TBS April 19 3:10 p.m. ET RHP Noah Syndergaard (0-2, 5.63 ERA) vs. RHP Max Scherzer (2-1, 4.41 ERA) SportsNet LA, SNY Scherzer will start Wednesday after a minor back issue pushed him back a few days this past weekend. It will be his first time pitching at Dodger Stadium since Game 3 of the 2021 NLDS, when he was a Dodger. Opposing Scherzer on Wednesday is Syndergaard, the former Met. He has never faced the Mets in his career.  Here are four things to know about this week's Dodgers vs. Mets series at Dodger Stadium, plus a prediction because why not? 1. Both teams are shorthanded Neither the Dodgers nor the Mets will be anywhere close to full strength this weekend. They're both missing several key players, including but not limited to: And then there's Edwin Díaz and Gavin Lux. Díaz tore his right patellar tendon celebrating Puerto Rico's win over the Dominican Republic in the World Baseball Classic. Lux suffered a more traditional baseball injury — he stumbled running the bases in spring training and tore his ACL. Díaz and Lux are both done for the season with their knee injuries. What a shame. Injuries are part of the game is no one will shed a tear for the Dodgers and Mets, especially not given the quality depth in the Dodgers' farm system or the Mets' record payroll. Injuries happen and the teams that best deal with them are usually the ones left standing at the end of the season. Thus far, both the Dodgers and Mets have weathered the storm. 2. Baty is joining the Mets The Mets called up top prospect Brett Baty in time for Monday's series opener. Outfielder Tim Locastro was placed on the 10-day injured list with back spasms in a corresponding move. Baty has hit .400/.500/.886 with five home runs in nine games in Triple-A this season, and our R.J. Anderson ranked him the No. 25 prospect in the game entering the season. Here's his write-up:Baty, the 12th pick in the 2019 draft, reached the majors for the first time last season, but his stay was short-lived; he appeared in just 11 games before undergoing thumb surgery that ended his campaign in late August. Baty's path back to the Mets big-league lineup is less complicated without Carlos Correa in tow, but he's a potential above-average hitter who lifted the ball and slugged more during his stay last season in Double-A.The Mets enter play Monday with 18 home runs, 13th most in baseball, and Pete Alonso has hit eight of the 18. Home runs aren't everything, but you do need them in the year 2023. Baty figures to provide some much-needed pop from the left side.   3. Alonso loves hitting in LA If you ignore the traffic, Dodger Stadium is one of baseball's crown jewels, and I reckon many non-Dodgers players would say it is their favorite road ballpark. Alonso really, really loves Dodger Stadium. He is a .360/.396/.880 hitter with seven home runs in 12 career games at Chavez Ravine, and he's gone deep in four of his last six games in the ballpark. "It's just one of those historic parks," Alonso told MLB.com following a two-homer game at Dodger Stadium last June. "There have been a lot of really important names in the game of baseball who have played here. For me, it's an honor to play here." Alonso's seven homers at Dodger Stadium are 11th most among active players who never played for the Dodgers (Paul Goldschmidt and Nolan Arenado unsurprisingly rank 1-2 on that list), and the 10 players ahead of him have all played at least 22 games in the ballpark. They average 43 career games at Dodger Stadium. Big Pete has played only a dozen. Alonso's eight home runs lead MLB in the early going. Boston Red Sox third baseman Rafael Devers has seven and no other player has gone deep more than six times. 4. Who's hot, who's not Baseball is a game of hot and cold streaks — "consistency" is one of my least favorite buzzword — and some players have started the new season very well. Here are three Mets players entering this week's series at Dodger Stadium on the top of their game: Along with Starling Marte (.255/.377/.392), these are the players the Mets lean on offensively, and they've all pulled their weight in the early going. Baty's arrival will give the Mets a high-upside bat for the bottom half of the lineup.
The Mets are still waiting for reigning NL batting champ Jeff McNeil (.218/.368/.291) to get going, and Daniel Vogelbach (.174/.387/.217) has done more walking than hitting in the early going. With Narváez hurt, Tomás Nido (.107/.161/.107) has taken over as the starter behind the plate and he's more glove than bat. Top prospect Francisco Álvarez drew back-to-back starts behind the plate over the weekend. More playing time could be on the way with Nido not hitting. Now here are three Dodgers players who have torn the cover off the ball the first two and a half weeks of the new season. Muncy's low batting average is just who he is. He's a walks and homers hitter and he's drawn a lot of walks and hit a lot of dingers this season. The Dodgers have also gotten superlative work from rookie James Outman (.261/.404/.587) in a quasi-platoon role. He leads the team's position players with 0.8 WAR.
The top seven Dodgers in plate appearances all have at least a 101 OPS+. The biggest negative in the everyday lineup has been shortstop Miguel Rojas (.143/.200/.179), who missed a little time earlier this month with a groin injury and has not yet gotten going at the plate. Los Angeles needs more from David Peralta (.200/.226/.233) and Chris Taylor (.135/.214/.459). Prediction!Outside of the Mets sweeping the A's this past weekend, the Mets and Dodgers have both had sluggish starts to the 2023 season, and have not yet rounded into form as two of the best teams in the league. I'm thinking the Mets take two of three this week. Their top players are playing at a higher level and I think they'll get a nice little jolt from Baty joining the lineup. I'll say the Mets drop Monday's opener, then rally to win Tuesday and Wednesday.