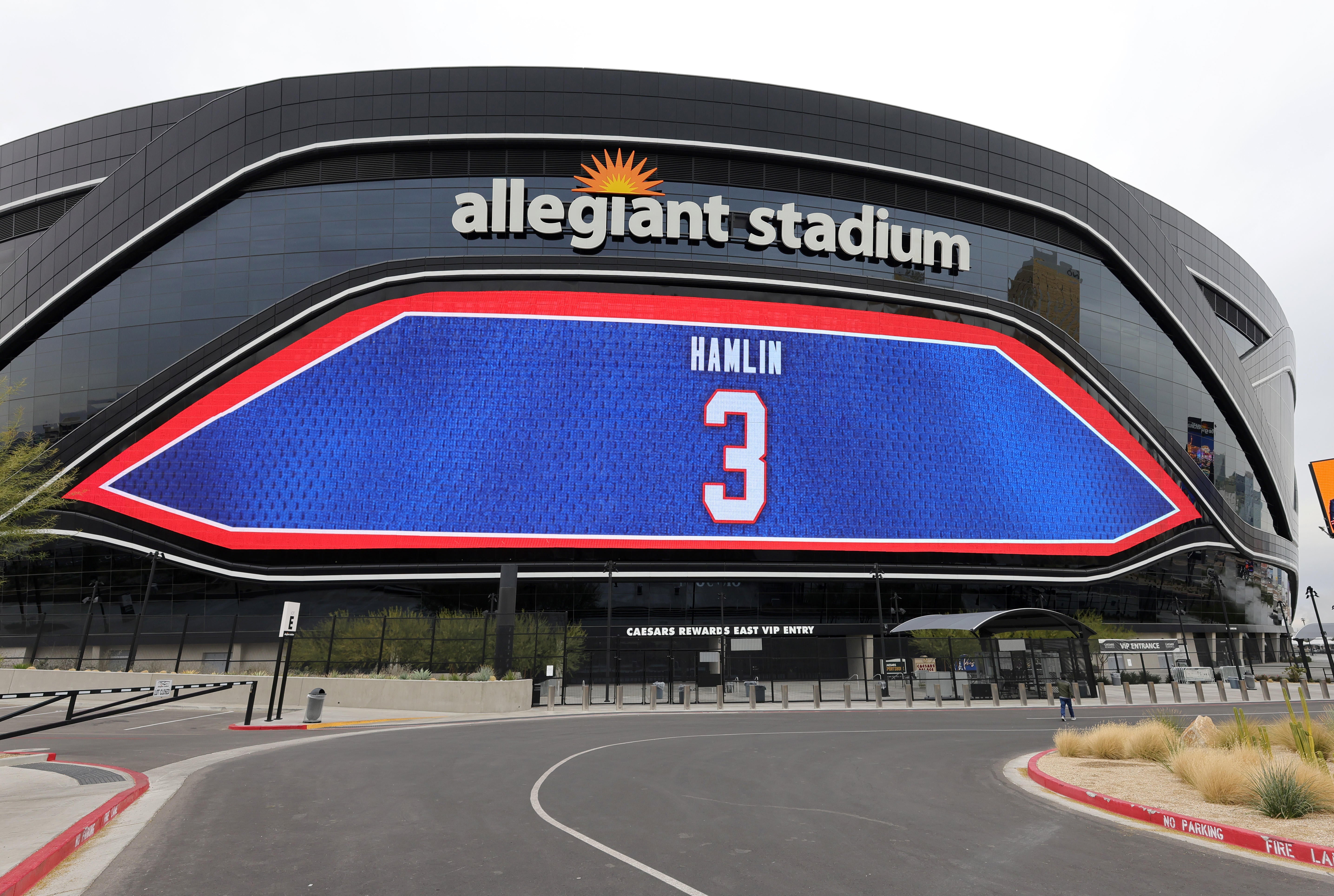 Getty Images
The NFL has announced that each of the league's 32 teams will be going all out to show support for Damar Hamlin this weekend. The Bills safety went into cardiac arrest on Monday night during the first quarter of Buffalo's game in Cincinnati. Hamlin had to be revived on the field by medical staff who performed CPR. Although things looked dire when he was taken to the hospital on Monday, Hamlin has improved remarkably over the past 24 hours with the Bills announcing on Friday that he's no longer on a breathing tube and that he even FaceTime'd some of his Bills teammates. The Bills will be showing their support for Hamlin on Sunday during their game against the Patriots by wearing patches that feature his No. 3.
Bills personnel will also be given a New Era hat with the a "3" emblazoned on it that they'll be allowed to wear during warm-ups.
As for the other 31 teams, they'll also be showing their support for Hamlin in the following three ways: Pregame moment of supportAccording to the NFL, the league has distributed a public address announcement that clubs are encouraged to read prior to the national anthem. The announcement is to serve as a unified show of support for Hamlin, the first responders and medical caregivers. Field paintingNot only will there be a pregame moment of support, but each team will also be painting its field for Hamlin. The Atlanta Falcons offered a preview of what that will look like. 
As you can see above, each team will put a blue outline around the No. 3 as a show of support for Hamlin. Pregame shirtsEach NFL player will also be given the option to wear a black Nike shirt in pregame that says, "Love for Damar 3." The Bills will also be given the option of wearing the shirt, but their shirts will be royal blue instead of black. The NFL community has come to together this week to support one of its own. Besides the stuff planned for this weekend, Hamlin has also received well-wishes on social media from hundreds of NFL players. The NFL community has also played a big part in helping Hamlin's charity raise more than $7 million over the past four days.