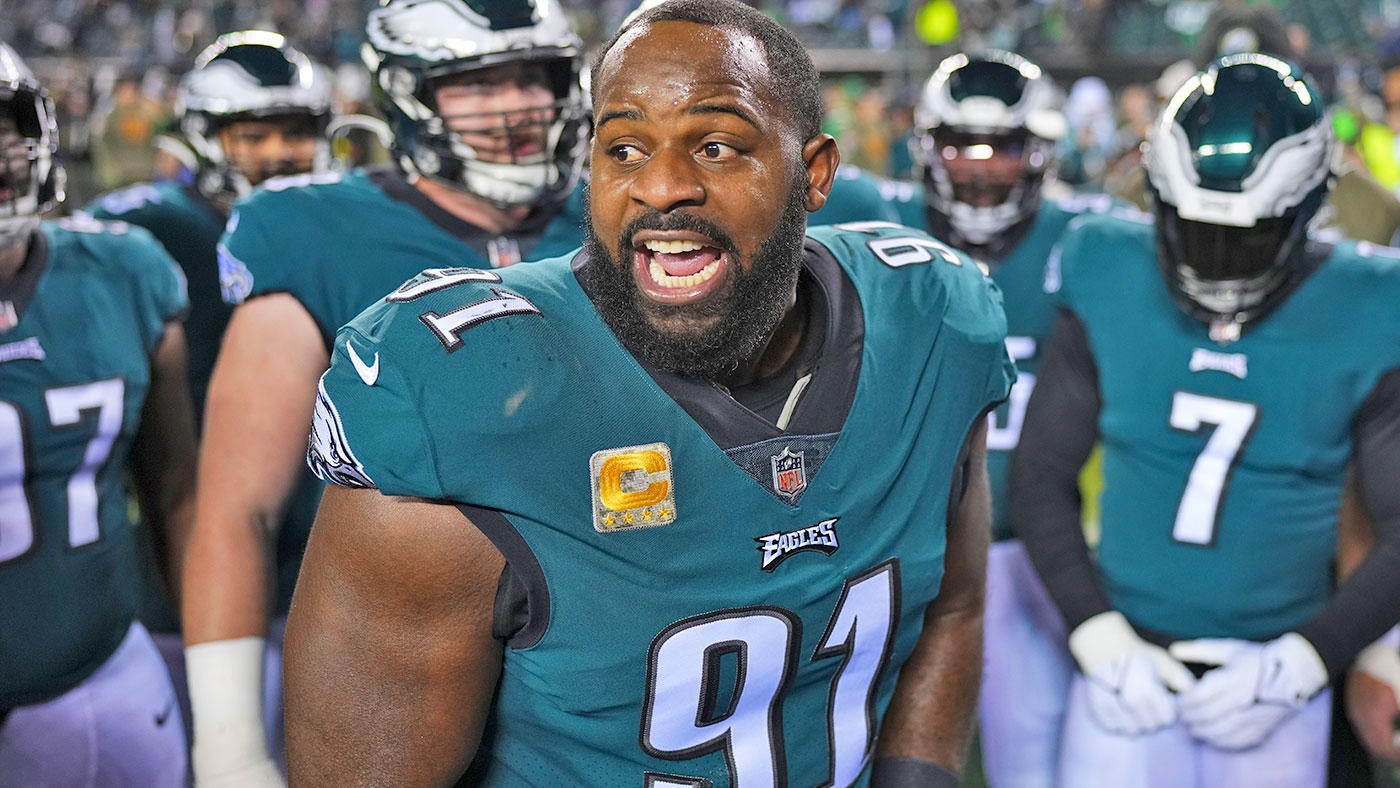 The 2023 NFL offseason is in full gear. Several big-name quarterbacks have already signed on for new homes and now many notable veterans have switched jerseys, with the exception of Green Bay Packers quarterback Aaron Rodgers, who said Wednesday that he "intends to play for the New York Jets" regarding his 2023 plans. However, Rodgers said the Packers compensation requests are holding up the trade at the moment. From eye-popping trades to unexpected signings, we've got your fill of each team's notable 2023 offseason pick-ups as well as grades for the signings and trades:  Key additions: LB Kyzir White (Eagles). Key re-signings: OT Kelvin Beachum, G Will Hernandez, K Matt Prater, RB Corey ClementDespite having nearly $35 million in cap space, according to OverTheCap.com, and a new regime with new general manager Monti Ossenfort and new head coach Jonathan Gannon, the Cardinals have been quiet. They lost a decent defensive lineman in 25-year-old Zach Allen to the Denver Broncos on a three-year, $45.8 million deal, according to NFL Media as well as one of their top cornerbacks Byron Murphy, who signed with the Minnesota Vikings on a two-year, $22 million contract. Otherwise, the team has reunited Gannon with Kyzir White, a solid but unspectacular starter from the Eagles' defense. Key additions: S Jessie Bates III (Bengals), TE Jonnu Smith (Patriots, via trade), DT David Onyemata (Saints), LB Kaden Elliss (Saints). Key re-signings: G Chris Lindstrom, LB Lorenzo Carter, T Kaleb McGary
The Falcons made a number of big swings Monday to jumpstart free agency, but almost all of them were clear overpays. The decision to make former Cincinnati Bengals safety Jessie Bates III, Cincy's leader in interceptions (14) and tackles (479) since entering the NFL in 2018, the fourth-highest paid safety in the NFL on an annual basis with a four-year, $64.02 million contract is their most defendable move. Atlanta was the league's sixth-worst total defense, 362.1 total yards per game allowed, in 2022, and they weren't getting much out of their secondary, the eighth-worst pass defense in the NFL (231.9 passing yards allowed per game). However, a strong argument could also be made that Bates III's money may have been served for different positional compensation down the road. Getting ahead of the rising salary cap to keep your own starting-caliber players is wise, but it's unclear why the Falcons felt the need to reset the offensive guard market by giving Chris Lindstrom five years and $105 million dollars coming off his first Pro Bowl appearance in 2022. The previously highest-paid guard was the Indianapolis Colts' Quenton Nelson, a five-time Pro Bowler and three-time First-Team All-Pro at four years and $80 million. Similarly, taking on the final two years of one of the bigger tight end contracts in the entire league after acquiring Jonnu Smith from the New England Patriots for a seventh round pick is a head-scratcher unless the plan is to move third-year tight end Kyle Pitts, the highest-drafted tight end in the Common Draft Era (since 1967) after being selected fourth overall in 2021, to a wide receiver role opposite Drake London. 
Key additions: N/A. Key re-signings: CB Trayvon Mullen, RB Justice HillThe reason the Ravens don't have an incomplete grade instead of a 'D' is simple; they have a no-brainer move sitting right in front them: sign MVP quarterback Lamar Jackson to a long-term contract extension. Alienating the face of your franchise in a staring contest over his second contract is bad vibes. Putting him on the non-exclusive franchise tag to show Jackson how no other NFL team is interested in signing him to a fully guaranteed contract is understandable. After almost 12 hours of free agency, Baltimore needs to send a better contract pitch as a peace offering and get this deal done. Instead, they're doing the opposite and looking into signing other quarterback as fallback options. The Ravens are 45-16 and average 28 points per game when Jackson starts for them since taking him with the last pick of the first round of the 2018 NFL Draft. They're 8-13 and average eight fewer points per game, 20.0, when any other quarterback has started from them across the last five seasons. Jackson is also the fastest player in NFL history to hit over 100 career passing touchdowns in addition to over 4,000 career rushing yards, 31 games quicker (67) than Randall Cunningham (98). Pay him what he's worth. Key additions: G Connor McGovern (Cowboys), WR Deonte Harty (Saints). Key re-signings: S Jordan Poyer, LB Matt Milano, LB Tyler Matakevich, P Sam Martin
Reinforcing your superstar quarterback's offensive line is never a bad move, especially at Connor McGovern's three years, $23 million price tag. The other moves were also easy on the salary cap with All-Pro linebacker Matt Milano's two-year contract extension adding $6 million in room to 2023. Punter Sam Martin's three-year extension worth up to $7.5 million is a good distance away from the top of the punting contract market. All solid moves.However, some more headline-grabbing transactions could be in the Bills' future with the restructures of quarterback Josh Allen's contract and linebacker Von Miller's contract Monday night opening up a whopping $32 million in cap space for this offseason. On Tuesday, the Bills opened up an additional $5.4 million in room with wide receiver Stefon Diggs restructuring his deal. Buffalo has since used some of that money to re-sign All-Pro safety Jordan Poyer. to a two-year deal. The money component of his new contract has not yet been made public. So perhaps there's still a chance to add Odell Beckham Jr.'s.
Key additions: QB Andy Dalton (Saints), TE Hayden Hurst (Bengals), RB Miles Sanders (Eagles), DT DeShawn Williams (Broncos), Shy Tuttle (Saints), S Vonn Bell (Bengals), 1st overall pick in 2023 NFL Draft (Bears, via trade). Key re-signings: C Bradley Bozeman When the Panthers hired Frank Reich to be their new head coach, the team clearly took a look in the mirror at the quarterbacks they have been trotting out over the last five seasons and realized enough with the veteran stopgaps. Now thanks to trading their ninth overall pick (first round) and their second second-round pick (61st overall pick) in the 2023 NFL Draft as well as a 2024 first-round pick, a 2025 second-round pick, and 25-year-old wide receiver DJ Moore, they can choose whichever fresh-faced quarterback they want to lead their franchise into a new era. They also added veteran mentor Andy Dalton, 35 years old, on a two-year. $10 million deal. A wise investment in order for the new face of the franchise to learn how to carve out a long-term career in the league. While that trade may have been perceived by some as reach because of what they gave up, the Panthers won't miss any of those picks if whoever they select between Ohio State's C.J. Stroud, Alabama's Bryce Young, Florida's Anthony Richardson, or Kentucky's Will Levis becomes a Pro Bowl passer and gives the team some extended stability at the sport's most important position. Supplementing their defense with a couple defenders on the right side of 30 in defensive tackle Shy Tuttle and safety Vonn Bell are nice moves as well. Carolina could have a very bright future if they nail their first overall pick and add some receiving help in either the draft's later rounds or in free agency. Adding former first-round pick tight end Hayden Hurst on a reported three-year, $21.8 million deal is a start. And bringing aboard former Eagles running back Miles Sanders is a huge get as well.
Panthers quarterbacks since 2018 * 63 passing touchdowns and 71 interceptions combined (Only team in NFL with more INT than pass TD in span)Chicago Bears: B+Key additions: LB Tremaine Edmunds (Bills), LB T.J. Edwards (Eagles), G Nate  Davis (Titans), 9th overall pick in 2023 NFL Draft (Panthers, via trade), 62nd overall pick in 2023 NFL Draft (Panthers, via trade ), 2024 first-round pick (Panthers, via trade), 2025 second-round pick (Panthers, via trade), WR D.J. Moore (Panthers, via trade), DE DeMarcus Walker (Titans), RB Travis Homer (Seahawks)The signings of two inside linebackers Tremaine Edmunds (4 years, $72 million) and  T.J. Edwards (three years, $19.5M) will yield a positive impact for the Bears' defense. However, they could've simply extended 2022 First-Team All-Pro linebacker Roquan Smith for a smaller cap hit than those two combined deals and retained one of the best linebackers in football. Instead, they traded him to the Baltimore Ravens. The big reasons for the B+ grade is because of how they've already helped young quarterback Justin Fields significantly, and the draft hasn't even started. Signing guard Nate Davis (3 years, $30M) and bringing in underrated, 25-year-old wide receiver D.J. Moore through the unloading of the 2023 NFL Draft's first pick is a great start to the offseason. The only way to find out if your quarterback is good is to surround him with a real supporting cast, and the Bears are on their way to doing so.Cincinnati Bengals: B-Key additions: N/A. Key re-signings: LB Germaine PrattLast offseason was where they addressed the major hole on their roster, their offseason line. Now, it's not nearly as much of an issue. This offseason, they kept one of their defensive leaders in linebacker Germaine Pratt on fair, three-year, $21 million pact. Losing both starting safeties in Jessie Bates III, signed with the Atlanta Falcons on a four-year, $64.02 million deal, and Vonn Bell, signed with the Carolina Panthers on a two-year deal, when there isn't too much depth in the upcoming draft's safety class might be a real issue down the road in the 2023 season.  Now the real work begins for the Bengals: figuring out how to extend the core of their offense in quarterback Joe Burrow, wide receiver Ja'Marr Chase, and wide receiver Tee Higgins. If the Bengals can reach deals for all three, this grade could soar an entire letter higher.Key additions: DE Obo Okoronkwo (Texans); DT Dalvin Tomlinson (Vikings). Key re-signings: C Ethan PocicWith Jadeveon Clowney wading through the waters of free agency, it was important for the Cleveland to find a new pass-rushing partner opposite Myles Garrett. They did so by signing 27-year-old defensive end Obo Okoronkwo to a three-year, $19 million contract that could hit $22 million with incentives. A solid add at a decent price point for a player coming off a career year despite playing for the Houston Texans, the team in possession of the second overall pick in the 2022 NFL Draft. However, the Browns' defensive line re-tooling didn't stop there. Late into Monday, the signed defensive tackle Dalvin Tomlinson to a four-year, $57 million deal with $27.5 million of it guaranteed, according to NFL Media. These two signings could allow Cleveland to be a force up front, critical in a division with Joe Burrow and most likely Lamar Jackson still. A restructure of Deshaun Watson's five-year, fully-guaranteed $230 million contract created $36 million in cap space for the Browns to work with this offseason, and they're making good use out of that additional cap room. Dallas Cowboys: BKey additions: CB Stephon Gilmore via trade with Colts. Key re-signings: S Donovan Wilson, LB Leighton Vander Esch, OT Tyron SmithThe Cowboys were relatively quiet on Day 1 of free agency but made some noise on Day 2 by re-signing two key defensive players and adding another via a trade with the Colts. They had previously put running back Tony Pollard on the non-exclusive franchise tag. Pollard is certainly a player Dallas needed to keep considering his 5.9 yards per touch led the entire NFL this season among players with 200 or more touches. Pollard's yards per touch figure was more than Indianapolis Colts running back Jonathan Taylor's league-leading 5.8 yards per touch in 2021 when he was the NFL's rushing champ. However, tying up nearly a quarter of their salary cap in their running back room between Pollard and Ezekiel Elliott isn't a winning formula, especially in 2023. Something Jerry Jones finally realized as he cut Zeke loose on Wednesday and freed up $10.9 million in cap space to address other roster needs. A shrewd move considering Elliott averaged 3.9 yards per touch in 2022, the lowest in the NFL among those with over 200 touches. Losing their second-most productive wide receiver after CeeDee Lamb, Noah Brown, to the Houston Texans on a one-year, $2.6 million deal hurts, but he could be replaced with a draft pick in April. 
Denver Broncos: BKey additions: QB Jarrett Stidham (Raiders), RB Samaje Perine (Bengals), TE Chris Manhertz (Jaguars), G Ben Powers (Ravens), T Mike McGlinchey (49ers), DE Zach Allen (Cardinals), LB Alex Singleton. Key re-signings: LB Alex SingletonThe Broncos were one of Monday's biggest spenders, tossing quarterback Jarrett Stidham, who made the first two starts of his career in 2022 with the Raiders, a two-year, $10 million contract simply to be Russell Wilson's backup. Not to mention a slew of other high-dollar deals like four years, $52 million for former Ravens guard Ben Powers, five years, $87.5 million for former San Francisco 49ers tackle Mike McGlinchey, three years, $45.8 million for former Arizona Cardinals defensive end Zach Allen, and three years, $18 million for inside linebacker Alex Singleton. Signing Samaje Perine to a two-year, $7.5 million deal is a solid value add with running back Javonte Williams working his way back from a torn ACL. New head coach Sean Payton clearly wanted the ownership to spend and spend big if he were to agree to leave his TV gig, and they certainly bellied up to the proverbial bar on Day 1 of free agency. The offensive line signings are defensible as far as positional need since Wilson was sacked 55 times in 2022, tied for the most in the NFL with Bears quarterback Justin Fields. However, the price tags, especially for McGlinchey, are high. The right tackle's contract is now the third-highest in total value in the entire NFL among those at his position, but considering the huge investment in Payton (acquired in a trade from Saints for a 2023 first-round pick and 2024 second-round pick) and Wilson (acquired in exchange for three players and five draft picks from Seahawks), the offense needs to work now. Key additions: RB David Montgomery (Bears), CB Cameron Sutton (Steelers). Key re-signings: RB Craig Reynolds, DL Isaiah Buggs, LB Alex Anzalone
The Lions haven't made any gigantic moves, but they kept key cogs to the culture Dan Campbell is building in running back Craig Reynolds (terms undisclosed), defensive lineman Isaiah Buggs (two years, worth up to $6 millions), and linebacker Alex Anzalone (three years, $18.8 million). Swapping out running back Jamaal Williams (27 years old) for former Chicago Bears starter David Montgomery (25 years old) on a three-year, $18 million deal is good business at that position. They also addressed a key area of need in their secondary by snagging 28-year-old cornerback Cameron Sutton from the Pittsburgh Steelers for three years, $33 million. That total value dollar amount is equivalent to the rookie contract of their former third overall pick from the 2020 NFL Draft, cornerback Jeff Okudah, a nice value for a player with Sutton's recent production. He only allowed a 46.8% completion percentage when targeted in 2022, the third-lowest in the NFL among players who were targeted 70 or more times. The only players with lower completion percentages were the Eagles' Second-Team All-Pro cornerback James Bradberry (43.5%) and the New York Jets 2022 NFL Defensive Rookie of the Year Sauce Gardner (44.2%). Nice work by general manager Brad Holmes who can make some real noise in the 2023 NFL Draft with multiple first round picks. Green Bay Packers: IncompleteKey re-signings: KR/PR Keisean Nixon
As of this moment, Aaron Rodgers is still under contract with Green Bay even though the world is awaiting official word that he's been traded to the Jets. Until Rodgers' desired trade to the Jets goes through, Green Bay's offseason and grade is on hold. The package they receive in return will have a significant impact on how quickly they can get back to Super Bowl contention with Jordan Love and Christian Watson leading the way. However, they did get a key piece of business done on Monday, re-signing 2022 First-Team All-Pro returner Keisean Nixon to a one-year deal worth $4 million. That's big deal since he led the NFL in kickoff return yards last season, 1,009, and gave a spark to the Packers' special teams return units perhaps not seen since the days of Desmond Howard in the 1990's. Houston Texans: B-Key additions: S Jimmie Ward (49ers), QB Case Keenum (Bills), WR Robert Woods (Titans), WR Noah Brown (Cowboys), G Shaq Mason (Buccaneers, via trade) TE Andrew Beck (Broncos), DL Hassan Ridgeway (49ers). Key re-signings: C Scott Quessenberry, S M.J. Stewart
The Texans had to pay an above-market price for a post-knee injury, 30-year-old Robert Woods (two years, $15.3 million), but it was a necessary investment in order to have some receiving options for whoever the team selects at quarterback with the draft's second overall pick. Adding former Dallas Cowboys wide receiver Noah Brown, Dak Prescott's second-most relied upon target, on a one-year, $2.6 million pact is good business. Quarterback Case Keenum (two years, $6.3 million) is a player who has seen it all in the NFL from leading a team to an NFC title game and subsequently signing a sizable free agent deal to floating around as a backup like he has the last few years. That's a nice value for a veteran mentor for the incoming future of the franchise. Reinforcing the offensive line with guard Shaq Mason coming in a trade from the Tampa Bay Buccaneers by swapping a sixth rounder for a Tampa Bay seventh rounder is another decent get in their quest to upgrade their offensive support system.  The same can be said for the Texans' signing of former San Francisco 49ers safety Jimmie Ward to a two-year, $13 million deal, according to NFL Network. That's an affordable, and important pickup for first-year head coach DeMeco Ryans, the former 49ers defensive coordinator. A veteran like Ward can be an extra coach on the field for a young Texans defense, helping accelerate the transition to Ryans' scheme. With extra draft capital over the next few years, thanks to the Deshaun Watson trade, this could be a team on the rise in a couple years. Indianapolis Colts: C-Key additions: K Matt Gay (Rams). Key re-signings: DE Tyquan Lewis, LB E.J. Speed, WR Ashton DulinThe Colts have a little over $11 million in cap space, but they don't have much room to operate to make many significant moves because of the final year of quarterback Matt Ryan's contract. Chris Ballard's biggest contract moves will probably come in the form of extensions for running back Jonathan Taylor and wide receiver Michael Pittman Jr. down the line. Although signing former Rams kicker Matt Gay to the largest free-agent kicker contract ever is a splash, especially for a team that's picking in the top five of the NFL Draft, far far away from the postseason. Adding the San Francisco 49ers No. 2 sacks producer from a season ago in defensive end Samson Ebukam is nice, but it's a little bit of an overpay at three-years, $27 million. Colts fans now have to wait to see if there's a quarterback left to get excited about with the fourth overall pick in the 2023 NFL Draft. Jacksonville Jaguars: CKey re-signings: QB C.J. Beathard, DL Roy Robertson-Harris, S Andrew WingardThe Jaguars went on their free agency bender a year ago when they signed receiver Christian Kirk (four years, $72 million), receiver Zay Jones (three years, $24 million), guard Brandon Scherff (three years, $49.5 million), defensive tackle Foley Fatukasi (three years, $30 million), linebacker Foye Oluokun (three years, $45 million), and cornerback Darious Williams (three years, $30 million) to multi-year, high-dollar figures. Naturally, they've had a much more low-key offseason, but retaining a quality starter in defensive tackle Roy Robertson-Harris (three years, $30 million) is good news. The biggest piece of the offseason for the Jaguars will be how much growth Trevor Lawrence has during the offseason as Jacksonville looks to build upon the divisional round playoff run they had in 2022. Key additions: T Jawaan Taylor, DE Charles Omenihu ; Key re-signings: DE Tershawn WhartonThe Chiefs needed to figure out their plans at left tackle with four-time Pro Bowler Orlando Brown hitting free agency, and general manager Brett Veach got to work quickly on Monday. He promptly signed Jaguars offensive tackle Jawaan Taylor, a 25-year-old former second-round pick, to a four-year, $80 million deal that includes $60 million guaranteed. While Brown has the better pedigree, Taylor actually had a better individual season in 2022, registering the third-lowest pressure rate allowed among offensive tackles last season at 2.5%, according to CBS Sports' Jeff Kerr. He allowed 16 pressures and five sacks this past season, and Brown surrendered 39 pressures and four sacks. Veach continues to make all the right moves as the Chiefs have won two of the last four Super Bowls, and if he can continue to find ways to fill out the margins of the Chiefs roster in a relatively inexpensive way, Kansas City could get an A by the end of free agency. Losing JuJu Smith-Schuster to the New England Patriots on a three-year, $33 million deal isn't a big blow for Kansas City. Kadarius Toney and Skyy Moore will just have bigger roles in 2023. Las Vegas Raiders: CKey additions: QB Jimmy Garoppolo (49ers), WR Jakobi Meyers (Patriots), S Marcus Epps (Eagles), CB Brandon Facyson (Colts), LB Robert Spillane (Steelers); Key re-signings: RB Ameer Abdullah, T Brandon Parker, CB Brandon All-Pro wide receiver Davante Adams' dreams of playing out the foreseeable future of his incredible career with college BFF Derek Carr went up in flames with Carr being released outright after not jelling with head coach Josh McDaniels. And now Darren Waller is gone after Las Vegas dealt him to the Jets for a third-round pick. But, the Raiders were able to relieve Adams of any quarterback uncertainty early on Day 1 of free agency by reuniting McDaniels with his former New England Patriots pupil Jimmy Garoppolo on a three-year, $67.5 million deal. They have also kept 2022 rushing yards champ Josh Jacobs around via the franchise tag, a smart move. Garoppolo being their starting quarterback in 2023 probably wasn't the Raiders' vision for the upcoming season, but it was a nice pivot regardless. However, essentially swapping Darren Waller for wide receiver Jakobi Meyers (three years, $33 million) and a third round pick so late it's essentially a fourth is a downgrade. Trading away your Pro Bowl tight end who is a beast over the middle after signing Garoppolo, who loves to throw over the middle makes no sense. Josh Jacobs agrees.Key additions: LB Eric Kendricks (Vikings). Key re-signings: QB Easton Stick It's been a much more quiet offseason in 2023 for the Chargers after grabbing headlines with the acquisitions of All-Pro linebacker Khalil Mack and high-priced cornerback J.C. Jackson plus the re-signing of wide receiver Mike Williams in 2022. Kendricks is a nice veteran cog for head coach Brandon Staley's defense, and they still have $18 million in cap space in their pocket. However, the possibility of losing the NFL's scrimmage touchdowns leader in each of the last two seasons, running back Austin Ekeler, after he requested permission to reach out to the rest of the league about a trade rains on their entire offseason. It's understandable that a productive running back wants to get a fresh deal entering the last year of his contract, but until Los Angeles resolves this situation with one of the NFL's most versatile offensive playmakers, a cloud will be cast over the Chargers' offseason proceedings. Los Angeles Rams: DKey additions: TE Hunter Long (Miami Dolphins, via trade), 2023 third-round pick (Miami Dolphins, via trade)After years of going "all-in" in pursuit of a Super Bowl title, which they achieved in 2021 by winning Super Bowl LVI in their home stadium, the Rams are undergoing a teardown. General manager Les Snead and head coach Sean McVay realized the need to rebuild the roster after the Rams crumbled to a 5-12 finish in 2022, the worst by a defending Super Bowl Champion in NFL history. Their "pillars" quarterback Matthew Stafford, wide receiver Cooper Kupp, and defensive tackle Aaron Donald all suffered injuries that caused them to miss multiple games. As a result, they've allowed for a talent exodus to occur this offseason, with linebacker Bobby Wagner, cornerback Jalen Ramsey, and kicker Matt Gay, among others, to abandon ship. The trade of Ramsey to the Miami Dolphins in exchange for a third round pick and 24-year-old tight end Hunter Long was a sad reminder of what could happen when disregarding the draft in lieu of high-priced veterans for a five to six-year span. Los Angeles has until March 15 (Wednesday) to get back over the salary cap by the start of the new league year. At least they'll be able to pick in the first round for the first time in eight years in 2024. Miami Dolphins: AKey additions: QB Mike White (Jets), LB David Long (Titans), CB Jalen Ramsey (Rams, via trade); Key re-signings: RB Raheem Mostert, RB Jeff Wilson Jr. The Dolphins know they only have quarterback Tua Tagovailoa on his rookie contract for two more years, so they're making the absolute most of it by pairing Pro Bowl cornerback Xavien Howard with All-Pro cornerback Jalen Ramsey following their trade with the Rams in which they gave up some pocket change listed above. Those two corners, safety Jevon Holland, and Pro Bowl pass rusher Bradley Chubb give new defensive coordinator Vic Fangio plenty of star power to work with. Signing Mike White on a two-year deal to be Tagovailoa's injury insurance is good business since he's a quarterback familiar with the AFC East from his time with the Jets, and he's a player who quickly won the locker room in New York. Two positive qualities for the new Dolphins backup. However, general manager Chris Grier was also able to shore up his inside linebacking group at a fraction of what the position has been going for during free agency in 2023. While Tremaine Edmunds (four years, $72 million from the Bears), Bobby Okereke (four years, $40 million from the Giants), Alex Singleton (three years, $18 million from the Broncos), and Alex Anzalone (three years, $18.8 million), all got significant financial commitments this offseason, Miami signed their new inside linebacker David Long Jr, formerly of the Tennessee Titans, for a measly two years and $11 million. Not a bad deal at all for one of the NFL's top run defenders at the position, according to the NFL's Next Gen Stats.
NFL Next Gen Stats
Minnesota Vikings: D+Key additions: CB Byron Murphy (Cardinals), TE Josh Oliver (Ravens), DE Marcus Davenport (Saints); Key re-signings: QB Nick Mullens, C Garrett Bradbury, K Greg JosephThe Vikings currently have the least amount of cap space in the entire NFL, so there's not a whole lot they can do. However, giving former New Orleans Saint Marcus Davenport $13 million on a one-year deal even though he's coming off what may be the worst season of his career at 26 years old in 2022 is a whiff. Signing former Arizona Cardinals cornerback Byron Murphy to a two-year, $22 million contract is upgrade to what was the NFL's second-worst total defense a year ago (388.7 total yards per game allowed) behind only the Lions. The signing of former Baltimore Ravens tight end Josh Oliver to a three-year, $21 million contract with a career stat line of 26 catches for 230 receiving yards and two touchdowns at 25 years old is insanity. Unless Minnesota plans to make an out-of-nowhere run at Lamar Jackson, this signing makes even less sense than the Davenport money. New England Patriots: C+Key additions: WR JuJu Smith-Schuster, T Riley Reiff (Bears); Key re-signings: OL James Ferentz, LB Raekwon McMillan, CB Jonathan Jones, S Jabrill PeppersNot a whole lot of action of activity here, but Bill Belichick and company were able to dump the remaining salary from tight end Jonnu Smith's contract onto the Atlanta Falcons for a seventh round pick. That's a win. Retaining two of their more productive defensive veterans, another small victory. However, the Patriots allowed wide receiver Jakobi Meyers, the team's leading receiver in each of quarterback Mac Jones' first two seasons, to walk out the door in free agency. He signed a three-year, $33 million deal with the Las Vegas Raiders aka Patriots West. New England offset that move by signing JuJu Smith-Schuster away from the Super Bowl Champion Kansas City Chiefs on an identical deal. However that begs the question, why didn't they just Meyers, a player who already had great chemistry with Jones.  The Patriots fortunately have a real offensive coordinator this season in Bill O'Brien, so Jones should get his overall development swinging back in a positive direction.New Orleans Saints: C+Key additions: QB Derek Carr (Raiders, RB Jamaal Williams (Lions). Key re-signings: QB Jameis Winston, TE Juwan Johnson, DE Tanoh Kpassagnon, DB J.T. Gray, WR Michael ThomasThe Saints won the Derek Carr sweepstakes, snatching up the Raiders' all-time leading in passing yards (35,222) and passing touchdowns (217) with a four-year, $150 million contract. Bringing over the NFL's rushing touchdowns leader, running back Jamaal Williams who had 17 for the Detroit Lions in 2022, is a solid grab at the price tag of three years, $12 million. While their contract restructures and salary cap maneuvering of years' past has finally caught up them, the Saints were still able to sign the quarterback they wanted to lead them into a more positive light post-Drew Brees. They also acquired a 2023 first round pick and a 2024 second-round pick for former head coach Sean Payton, who didn't do any work for them last season. That's good business. New York Giants: B-Key additions: TE Darren Waller (Raiders, via trade)), DT Rakeem Nunez-Roches (Buccaneers), LB Bobby Okereke (Colts). Key re-signings: QB Daniel Jones, WR Sterling Shepard, P Jamie GillanThe Giants finally have money to spend, and they got an elite, if oft-injured target for Daniel Jones in Waller, but they also overpaid on a couple critical signings. First, Daniel Jones' four-year, $160 million contract extension is a jaw-dropping reversal in the franchise's opinion of their former sixth overall draft pick and a gross overestimation of his future growth. General manager Joe Schoen and head coach Brian Daboll immediately assessed that Jones wasn't worth paying on a fully-guaranteed, fifth-year option, but after he threw 15 touchdowns and five interceptions in 2022, he's suddenly worth Matthew Stafford and Dak Prescott money? Despite averaging the fewest turnovers per game (0.5) in 2022 among qualified quarterbacks, Jones' 57 career turnovers are still the sixth-most since he entered the NFL in 2019. This deal could put a Blake Bortles-like ceiling on the 2020's Giants like the former top five pick quarterback's contract extension did for the late 2010's Jaguars. Jones' reliance on Saquon Barkley also complicates extension talks for the former second overall draft pick whom the Giants have franchise-tagged. When Barkley plays, Jones has a passer rating of 91.4, but that figure drops to 77.3 without him. The revived rusher roared back to life with 1,312 rushing yards in 2022, the fourth-most in the NFL after struggling to create separation following a torn ACL in 2020. Since Jones is back long-term, it feels like New York almost has to pay up for their quarterback's security blanket. Bobby Okereke's contract is also an overpay considering plenty of comparable linebackers like Alex Singleton, Alex Anzalone, and David Long Jr. all signed contracts for under $20 million in total value. Just because the Giants have money to spend, doesn't mean they need spend a significant chunk of it right now. New York Jets: IncompleteKey additions: WR Allen Lazard (Packers), S Chuck Clark (Ravens, via trade). Key re-signings: LB Quincy Williams, K Greg ZuerleinAs long as Aaron Rodgers' situation remains in limbo for the Packers and the Jets, it's impossible to grade either of their offseasons. However, it is great news that Rodgers wants to join the team. Retaining starting linebacker Quincy Williams, the older brother of 2022 First-Team All-Pro defensive tackle Quinnen Williams, was good business on and off the field since the Jets need to eventually give Quinnen a long-term, second contract. Picking up a starting caliber safety in Chuck Clark from the Ravens for a seventh round pick in next year's draft was another nice move. However, nothing matters for the Jets if they don't get Rodgers to agree to a trade and come play for them. This is a top-five defense that is also stocked with explosive, young weapons on offense. They're ready to go right now. The path forward for the Jets could be awkward without Rodgers aboard after hiring his former Packers offensive coordinator Nathaniel Hackett and many Jets' players tweeting their desire for Rodgers to join the team. With Carr, Garoppolo, and Jameis Winston off the market, Jacoby Brissett would likely be Gang Green's top QB option for 2023 should the deal for Rodgers not reach the finish line.Philadelphia Eagles: BKey additions: RB Rashaad Penny (Seahawks). Key re-signings: C Jason Kelce, DE Brandon Graham, CB James Bradberry, DT Fletcher Cox, RB Boston ScottThe NFC Champion Eagles have locked down their offensive and defensive heartbeats for the 2023 season in center Jason Kelce and defensive end Brandon Graham. Kelce, who was considering retirement, is now back for another year after having the second-lowest pressure rate allowed in the entire NFL in 2022, 1.2%, among players with 500 or more pass-blocking snaps. Graham totaled a career-high 11.0 sacks in 2022, so getting his presence back for on and off field purposes was critical. Even better news is that Second-Team All-Pro cornerback James Bradberry decided to take less money and stay in Philadelphia on a three-year, $38 million deal that can reach $44 million with incentives. The 2022 NFL leader in passer rating allowed (44.5) remains with the E-A-G-L-E-S, Eagles. Franchise legend, defensive tackle Fletcher Cox, also took less money to remain in Philadelphia, coming back on a one-year, $10 million pact. Making the Super Bowl is helpful to retain key veterans, who knew? However, losing Pro Bowl defensive tackle Javon Hargrave to the NFC runner-up San Francisco 49ers is a huge blow plus Philadelphia also lost linebacker T.J. Edwards to the Bears and safety Marcus Epps to the Raiders. Safety C.J. Gardner-Johnson and could also join the list of former Eagles defensive starters playing for new teams in 2023. The Eagles' foundational elements remain the same, but there will significant turnover in the starting lineup in 2023. Pittsburgh Steelers: BKey additions: CB Patrick Peterson (Vikings), G Nate Herbig (Jets), LB Cole Holcomb (Commanders); Key re-signings: DL Larry OgunjobiWhile losing Cameron Sutton isn't ideal, replacing him with one of the NFL's active co-leader in interceptions, Patrick Peterson, is a solid pickup for two years and $14 million. Peterson totaled five interception this past season, the second-most in his entire career, and had a 79.7 coverage grade, the eighth-highest among all cornerbacks according to Pro Football Focus. Nate Herbig on a two-year, $8 million contract is a nice depth addition. Same goes for linebacker Cole Holcomb who comes over to replace former first round pick Devin Bush on a three-year deal. It's early, so not much other activity for Mike Tomlin's club, but a solid start to the offseason. San Francisco 49ers: B+Key additions: DT Javon Hargrave (Eagles), QB Sam Darnold (Panthers). Key re-signings: DL Kevin Givens, S Tashaun Gipson, LS Taybor Pepper, C Jake BrendelThe 49ers saw a glaring need at defensive tackle, and they filled that hole with free agency's top option, former Eagles defensive tackle Javon Hargrave. They signed him to a four-year, $84 million contract. He's coming off a career-high 11.0 sacks in 2022, nine of which came when has was lined up at the traditional defensive tackle spot along the defensive the line. That's tied for the most sacks when lined up at defensive tackle, which also led to the highest pressure percentage when lined up at the defensive tackle spot in 2022, 14%. The 49ers only totaled one sack and a seven percent pressure percentage out of their defensive tackle spot last season for comparison.Head coach Kyle Shanahan and general manager John Lynch's defense should be even scarier in 2023, which could lead to a different outcome if they see the Eagles in the postseason once again. The team may regret the length of the deal given that Hargrave is already 30, but it was the right move for the next couple years at least since quarterbacks Trey Lance and Brock Purdy won't be on their rookie deals for too much longer. Aggressive team building is admirable. What the 49ers have done here is turn their pass rush from a strength to arguably the NFL's best defensive front with 2022 Defensive Player of the Year Nick Bosa, Hargrave, and Arik Armstead all lining up together. Seattle Seahawks: AKey additions: DL Dre'Mont Jones (Broncos), DL Jarran Reed (Packers). Key re-signings: QB Geno SmithThe Broncos are the gift that keeps on giving for the Seahawks. Dumping quarterback Russell Wilson on them in exchange for five draft picks and three players brought the Pete Carroll Era back to life in Seattle as they got unprecedented, immediate impact from their 2022 rookie draft class. Seattle first-year players started 70 games as a group in 2022, tied for the most by any playoff team since the 1970 AFL-NFL merger, along with the 2018 Colts. Seattle also has the fifth overall pick in the upcoming NFL Draft thanks to Wilson's first-year flameout at Mile High Stadium, allowing them to potentially grab a quarterback of the future to learn under Geno Smith, who played like a top-five quarterback in 2022 en route to a three-year, $75 million extension this offseason. That contract puts the Seahawks in position to have some stability at the position while not sacrificing flexibility either. However, they could also just select one of the draft's top three draft prospects between Alabama's Will Anderson Jr, Georgia's Jalen Carter, or Texas Tech's Tyree Wilson. If the Arizona Cardinals trade down from their third overall pick spot with a quarterback-hungry team, the Seahawks could have their pick of any of those three. Not to mention Seattle also took another key asset from the Broncos in defensive end Dre'Mont Jones, whom they signed on a three-year deal for $51.5 million on Monday, according to NFL Media. The 26-year-old has recorded a minimum of 5.5 sacks and seven tackles for loss in every season since 2020 after shifting to the defensive end spot from defensive tackle after his rookie year in 2019. Last season, Jones had a career year with 6.5 sacks and nine tackles for loss. The Seahawks are a good draft away from becoming a long-term contender in the NFC. Tampa Bay Buccaneers: CKey additions: QB Baker Mayfield (Rams); Key re-signings: CB Jamel Dean, LB Lavonte David, CB Jamel DeanSomehow, they found just enough cap space in their couch cushions to re-sign cornerback Jamel Dean to a four-year, $52 million deal on Monday. It's a solid retention for a player who has a 49.4% completion percentage allowed when targeted in his career, the third-lowest in the entire league since he was drafted in 2019. Dean trails only 49ers cornerback Charvarius Ward (48.2%) and Falcons cornerback Casey Heyward (48.7%) among players with 200 or more targets in that span. Bring back franchise legend Lavonte David on a one-year, $7 million deal is huge both on and off the field. However, their QB room could being Kyle Trask and Baker Mayfield in 2023 is a stark reminder that the Super Bowl aspirations Tom Brady brought with him from New England have vanished along with his football career as he enters retirement full-time. Tennessee Titans: C-Key additions: T Andre Dillard (Eagles), LB Arden Key (Jaguars), LB Azeez Al-Shaair (49ers), G Daniel Brunskill (49ers). Key re-signings: LS Morgan CoxThe Titans appear to be gearing up for the potential of 2022 Heisman Trophy winner and USC quarterback Caleb Williams' presence in the 2024 NFL Draft. They've let four contributing offensive linemen walk out of their building with  Andre Dillard and Daniel Brunskill brought in so far as a replacements. The Titans also let linebacker David Long Jr. go on down to Florida to join the Miami Dolphins on a two-year, $11 million deal. Not re-signing a quality defensive starter at the price tag speaks volumes. However, they have since secured the services of Arden Key and Azeez Al-Shaair on small deals too. After finishing 2022 on a seven-game losing streak, Tennessee is gearing up for more of the same in 2023. Key additions: QB Jacoby Brissett (Browns), T Andrew Wylie (Chiefs), OL Nick Gates (Giants), LB Cody Barton (Seahawks), CB Cameron Dantzler (Vikings). Key re-signings: DT Daron Payne, LB David Mayo, CB Danny JohnsonThe Commanders have made a few mid-level moves in addition to making Pro Bowl defensive tackle Daron Payne the second-highest paid defensive tackle in the NFL behind only three-time NFL Defensive Player of the Year Aaron Donald. Adding Andrew Wylie for three years at $24 million gives new offensive coordinator Eric Bieniemy a familiar face to help coach up his new players on the scheme he's importing from Kansas City. Jacoby Brissett allows for Bieniemy to have an adult in his quarterbacks room since Sam Howell and Jake Fromm, the other two passers on the roster, have a combined three career starts between them. The rest of the acquisitions are solid depth fillers, nothing super noteworthy beyond that. However with a little over $16 million in cap space, the Commanders still have the flexibility to make a a few more moves before the dust settles.