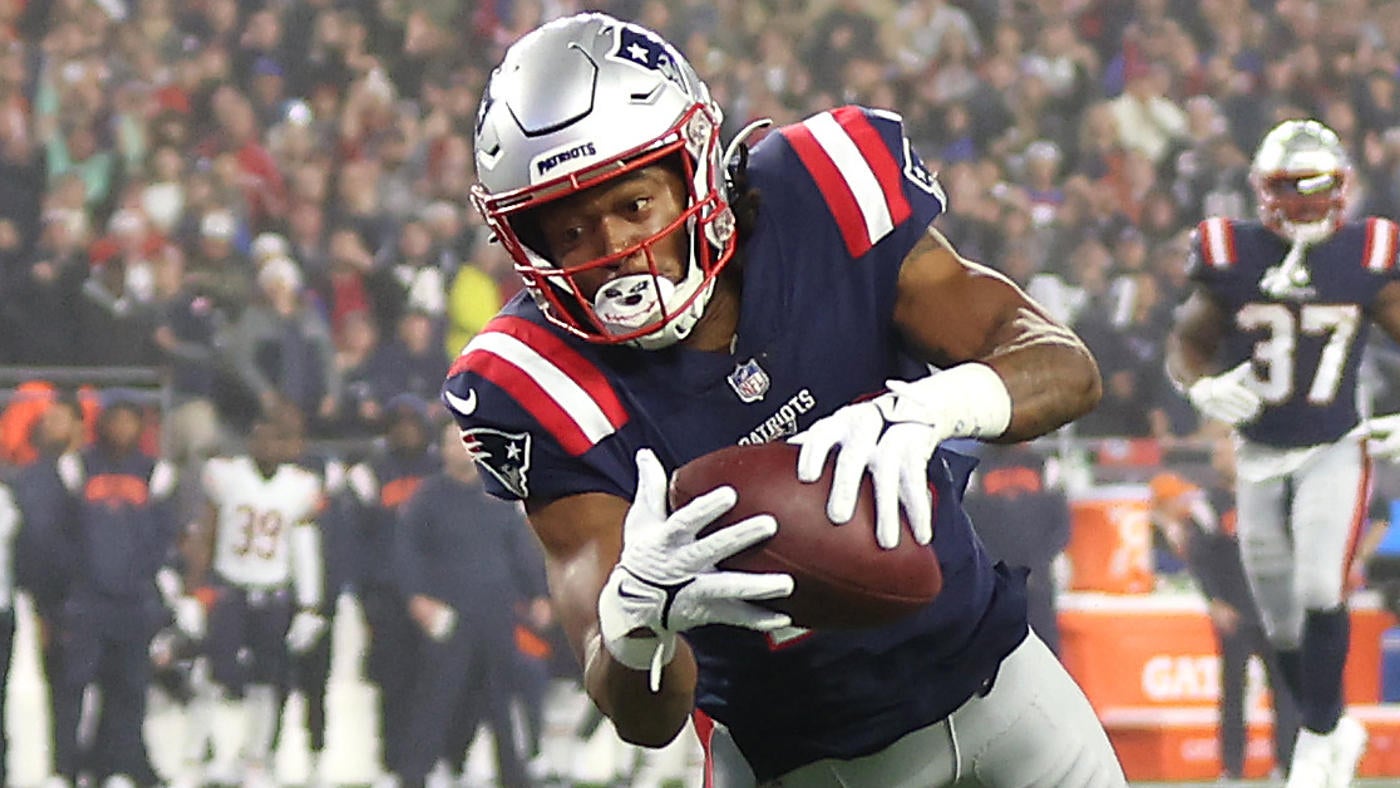 The NFL's annual game of musical chairs is underway as the legal tampering period kicked off on Monday afternoon and continued on Tuesday with several major moves. This is really the unofficial start of free agency as teams are allowed to contact upcoming free agents and negotiate contract terms leading up to the start of the new league year — when these deals can become official — on Wednesday. 
More NFL free agency
On Day 1, we saw arguably the biggest defensive free agent come off the board as former Eagles defensive tackle Javon Hargrave inked a monster deal with the San Francisco 49ers. Speaking of the Niners, their former quarterback, Jimmy Garoppolo, agreed to join the Raiders, reuniting with Josh McDaniels. As for Day 2, the Raiders remained active and gave their new quarterback another pass-catching weapon, while the Browns beefed up their defensive line. The Eagles had a huge day, re-signing James Bradberry and signing Rashaad Penny to be the No. 1 running back. And the madness is just getting started.  Below you'll find grades for each deal that's been agreed two involving the top 100 free agents, according to CBS Sports senior NFL writer Pete Prisco, along with other notable players on the open market. We'll start with our quarterback grades, followed by Day 2 moves and then moves from Day 1.
Grades for all QB movesJimmy Garoppolo lands in Sin CityThe Raiders have found their Derek Carr replacement, inking Garoppolo to a reported three-year deal worth $67.5 million and includes $34 million guaranteed. Of course, Garoppolo does have a relationship with head coach Josh McDaniels, who was his offensive coordinator during their shared days in New England together. So, there's familiarity between these two sides. Garoppolo is a slight upgrade over Carr, but the big concern will be whether or not he can remain healthy. If he can, he could have the Raiders in playoff contention in the AFC. Meanwhile, the short-term deal does still leave the possibility open for Las Vegas — who owns the No. 7 pick at the NFL Draft — to draft and develop a quarterback behind Garoppolo, which is interesting.  Grade: B+Taylor Heinicke heads to FalconsFormer Commanders quarterback Taylor Heinicke is leaving the D.C. area and heading down to Atlanta to join the Falcons. The veteran has reportedly agreed to a two-year deal worth up to $20 million. The Falcons were in the market for another quarterback after releasing Marcus Mariota and having just Desmond Ridder and Logan Woodside on the roster, and Heinicke does give you a quality backup that can start in a pinch. The Old Dominion product should be a valuable mentor to Ridder if that's truly the route the Falcons go down for 2023. Grade: C+Jameis Winston stays with SaintsJameis Winston has reportedly decided to remain with the Saints as the two are finalizing a new deal. This is a great move for both sides. The Saints have a known commodity backing up new starting quarterback Derek Carr. Winston gets to stay in New Orleans instead of trying to latch on somewhere else. 
Grade: AThe former three-time Pro Bowler has come to terms on a two-year deal with the Panthers. This is a great move for both sides. The Panthers are getting a highly experienced quarterback who put up decent stats for the Saints last season. Carolina also gets a veteran who can serve as a mentor for whoever the team decides to take with the No. 1 overall pick. Grade: A Grades from Day 2Jets land Rodgers' former WR New York sweetened the pot for Aaron Rodgers after coming to terms with former Packers wideout Allen Lazard on a reported four-year, $44 million deal. While this will likely help convince Rodgers to join them, that's a lot of money to give a player that put up solid yet unspectacular numbers in Green Bay. Grade: B Eagles re-sign James Bradberry While they've lost a slew of players in free agency, the Eagles were able to keep cornerback James Bradberry, who agreed to terms on a three-year deal that is worth up to $44 million, according to ESPN. Bradberry played a key role in the Eagles' Super Bowl run last year with three interceptions and 17 pass breakups. At age 29, Bradberry should still have several prime years ahead of him. 
Grade: A The Cowboys are keeping their former first-round pick, and at an affordable cost of $11 million over two years, according to NFL Media. While he's not a star, Vander Esch is a solid player who has become a key cog in the Cowboys defense. He is coming off a 2022 season that saw him record 90 tackles in 14 games. You could argue, however, that the Cowboys may have been better off trying to find an upgrade at Vander Esch's position. Grade: B Jakobi Meyers reunites with McDaniels in VegasThe Raiders were able to agree to a three-year, $33 million deal with former Patriots receiver Jakobi Meyers that includes $21 million guaranteed. While Meyers was New England's top wideout over the past few seasons, he's best suited for a No. 2 role in an NFL offense, which is what he'll be in Las Vegas. Putting him opposite of Davante Adams should allow Meyers to be a nice security blanket for newly signed QB Jimmy Garoppolo and complement both wideout Hunter Renfrow and tight end Darren Waller. Of course, Meyers should be able to ease himself into this offense quickly given his familiarity with head coach Josh McDaniels, who was his OC with the Patriots for the first three seasons of his career. Grade: B+Eagles pounce on Rashaad Penny Along with re-signing Boston Scott, the Eagles came to terms with former Seahawks first-round pick Rashaad Penny. While injuries played a part in his time in Seattle, Penny played like a first-round pick when healthy. He had three straight 100-yard rushing performances late in the 2021 season and averaged 5.7 yards-per-carry during his time in Seattle. Penny is also a much more affordable option when compared to Miles Sanders, who will likely sign elsewhere. 
Grade: B+ Browns beef up D-line with Dalvin TomlinsonFormer Vikings defensive tackle Dalvin Tomlinson is in agreement on a four-year deal to join the Cleveland Browns worth $57 million and includes $27.5 million in guaranteed money. The 29-year-old should come into Jim Schwartz's defensive line and help improve their run defense that was abysmal at times in 2022. Last year, Cleveland's defense ranked 28th in DVOA against the run, so Tomlinson's arrival on the interior will look to help patch that up.  Grade: B+Donovan Wilson remains with CowboysThe Cowboys retained one of their own on Tuesday, re-signing safety Donovan Wilson to a three-year contract worth up to $24 million and includes $13.5 million fully guaranteed. That's quite the pretty penny the Cowboys are shelling out, but Wilson has been a tone-setter for Dallas in recent seasons and has been a key reason for the club's success on the defensive side of the ball. He's coming off a 2022 campaign where he led the team in tackles and also registered five sacks. With this re-signing, the Cowboys keep their three-headed monster of Wilson, Jayron Kearse, and Malik Hooker intact. Grade: A-A day after Kelce noted on social media that he'd be returning for another season in the league, the All-Pro center agreed to a one-year, $14.25 million deal with the Eagles. The idea of Kelce playing for any other team the Philadelphia seemed far-fetched as it was likely down to the Eagles or retirement. His return should be looked at as a big win for an Eagles team that has seen several players depart in free agency already. Not only do they retain the top center in the league, but keep one of their main leaders in the locker room as well. 
Grade: ADolphins re-sign Raheem MostertThe Dolphins re-signed running back Raheem Mostert to a two-year, $5.6 million deal that includes $2.2 million guaranteed. That's a relatively low-cost, low-risk move for Miami, but we'll likely need to see another shoe drop before we can fully evaluate this re-signing. If Mostert ends up being the Dolphins' RB1, that's not going to cut it, but if he's a complement to a looming addition, that's much more palatable.  Grade: B-Moseley is coming off a torn ACL, yet he's an excellent cover corner. He allowed a 43.6 passer rating in his five starts last season, with no touchdown passes allowed. Just 26, Moseley has allowed only one touchdown over the past two seasons with a passer rating of 63.2.Moseley is an excellent find in free agency, and the Lions will be paying him just $6 million in 2023. They significantly improved at cornerback with Moseley and Cam Sutton.
Grade: A+Indianapolis paid big money for a kicker, as Gay received $22.5 million over four years. Gay has made 60 of his last 64 kicks (93.8%) and 79 of his last 81 extra points (97.5%), but that's a lot of money to pay a kicker when a team has a lot of holes on its roster. Gay should do well in Indianapolis, but money needed to be spent elsewhere. Grade: C+The Dolphins are running it back with Wilson in 2023, who they acquired at the trade deadline last season. Wilson is an ideal back for Mike McDaniel's offense, and he and Raheem Mostert will once split the carries in the backfield. Wilson averaged 4.7 yards per carry with the Dolphins and 4.9 yards per carry last season overall. Solid move for Miami, who didn't overpay for a back. 
Grade: BThomas has been injured the past few seasons, but the Saints are paying him $10 million in 2023 based on past performance. If healthy, this could be the steal of free agency. Remember Derek Carr is throwing passes to him now.Grade: B+Montgomery agreed to terms with Detroit on a three-year deal, as the Lions moved on from Jamaal Williams in favor of the former Bears running back. While Montgomery has been productive (800-plus rushing yards in each of his four seasons), the Lions lost an excellent leader in Williams to sign Montgomery. Montgomery is a good player and should do well in the Lions offense regardless.Grade: BThe Chiefs agreed to terms with Omenihu to a two-year, $16 million deal late on Day 2 of free agency, giving him an opportunity to play opposite of George Karlaftis on the defensive line. Coming off his best season, Omenihu had 54 pressures and 16 quarterback hits for the 49ers last season.
Just 25 years old, Omenihu has a ton of upside and should thrive in Steve Spagnuolo's defense. Playing next to Chris Jones will benefit him immensely.Grade: A-The Titans were able to keep Key in the AFC South, as he agreed to terms on a three-year, $21 million deal with Tennessee.  A career-high 44 pressures and 28 hurries add to Key's value, as he's just 26 years old. Key paired with Jeffery Simmons could keep the Titans as a threat in the AFC South, but Tennessee still has some work to do on that side of the ball. 
Grade: BGrades from Day 1 49ers load up with Javon Hargrave It didn't seem possible for San Francisco's defense to get scarier, and then they went out and signed arguably the best defensive player on the free agent market in Javon Hargrave. The former Eagles defensive tackle cashed in on a four-year, $84 million deal to join the 49ers and create one of the more feared defensive lines in the league. Hargrave is coming off a 2022 season where he had 11 sacks, 10 tackles for loss, and 16 quarterback hits, all while primarily playing on the interior. He'll now situate himself next to Arik Armstead and Javon Kinlaw, while Nick Bosa works off the edge.  Grade: A Steelers lock up Patrick Peterson While they lost Cam Sutton to the Lions, the Steelers replaced him with a cornerback who may end up in the Pro Football Hall of Fame. The Steelers came to terms with eight-time Pro Bowl cornerback Patrick Peterson on a reported two-year, $14 million deal. Peterson's ability to make splash plays is one of the things that probably led to the Steelers signing him. Last season, Peterson picked off five passes, his highest total in 11 years. Pittsburgh will likely looking to add playmakers to their defense after the unit largely struggled to do so during the early stages of the 2022 season (Pittsburgh dropped several interceptions during their Week 8 loss in Miami). Age is the only concerning thing here, as Peterson will be 33 before the start of next season. But given what he did last year (he played in each of the Vikings' 17 games), Peterson appears to play younger than his actual age. He can also serve as a possible mentor in the event that the Steelers use the No. 17 overall pick to select Penn State cornerback Joey Porter Jr. Grade: A- Seahawks land Dre'Mont Jones One of the league's most scored upon defenses last season received a big addition on Monday. Seattle managed to come to terms with former Broncos defensive lineman Dre'Mont Jones on a reported three-year, $51.53 million deal. A very consistent player in Denver, Young is a steady pass rusher who is also solid against the run. This situation appears eerily similar to Javon Hagrave signing with the Eagles four years ago. A solid player in Pittsburgh, Hargrave flourished into a Pro Bowl player in Philadelphia. Seattle is surely hoping that the same thing happens with Jones. Grade: A  Broncos bolster O-line with two movesThe Broncos made two major moves in solidifying the offensive line in front of Russell Wilson and we're combining them here for grading purposes. Denver first agreed to terms on a four-year, $52 million deal with guard Ben Powers and then inked one of the top offensive tackles on the market in Mike McGlinchey to a five-year, $87.5 million contract. Guard and right tackle were two massive needs for the Broncos entering this offseason after a 2022 season where Wilson was sacked 55 times, which was tied for the most in the NFL. Now, they've just solved both of them in the blink of an eye.  Grade: A Denver gambles on defense with Zach AllenThe Broncos came to terms former Cardinals defensive end Zach Allen to a three-year, $45.5 million deal. Allen, who was brought in to replace Dre'Mont Jones, is getting a lot of money for a player with 11.5 sacks during his four seasons in Arizona. This is a big gamble that the Broncos need to have pay off. Grade: D Marcus Davenport gets fresh start with Vikings Former first-round pick Marcus Davenport agreed to terms on a reported one-year, $13 million deal with the Vikings. While it's not a ton of money, it is a surprising amount to give a player who recorded less than one sack last season. The Vikings are surely expecting Davenport to be the player that had a career-high nine sacks in 2019. Grade: C-  Bears bring aboard T.J. Edwards Chicago is expected to be a major player in free agency and made its first strike by signing former Eagles linebacker T.J. Edwards to a three-year, $19.5 million deal. The Bears defense needs improvement wherever it can get it, and Edwards is someone who can slot in off the ball in the middle of the defense. There's also some familiarity with Edwards as Chicago assistant GM Ian Cunningham was a former Eagles executive when he signed with the team in 2019.  Grade: B Chargers land former Pro Bowler Eric Kendricks About a week after being released, longtime Vikings linebacker Eric Kendricks found a new home with the Chargers. While the teams of the deal weren't disclosed at the time of this writing, it's hard not to like this move for both sides. Kendricks gets a chance to continue his career with a playoff caliber team. The Chargers get a talented player who can shore up the middle of their defense. Grade: A- New England addressed one of its key in-house free agents at the start of the legal tampering period, retaining cornerback Jonathan Jones. He inked a two-year, $20 million deal with $13 million guaranteed. Jones had made it quite clear that he wanted to remain in New England, so this was his preferred outcome while the Patriots retain a versatile piece of their secondary. Jones primarily came up as a slot corner, but moved to the outside and played well in that role in 2022.  Grade: B Lions address secondary with Cameron Sutton Detroit had one of the worst defenses in the league last year, so diving into free agency to help fix that was an expected outcome. Their first move in trying to bolster that group was signing former Steelers cornerback Cameron Sutton to a three-year, $33 million deal that includes $22.5 million fully guaranteed. Sutton is coming off the best season of his career in 2022 where he totaled 15 pass breakups and three interceptions. He also held opposing quarterbacks to a 65.3 passer rating, which was a dramatic improvement from the 104.9 passer rating he surrendered in 2021. If the Lions are getting the 2022 player, he should be a big help to their secondary.  Grade: B- Buccaneers hold on to starting CB Jamel DeanWhile they are a team in transition, the Buccaneers did manage to keep one of their main starters in Tampa. The team re-signed cornerback Jamel Dean to a four-year, $52 million deal. Dean is a contributor on special teams, so he will certainly earn his money. And while continuity is a good thing, the Buccaneers need Dean to turn into a Pro Bowl level player to justify the among of money they're paying him. Grade: B-